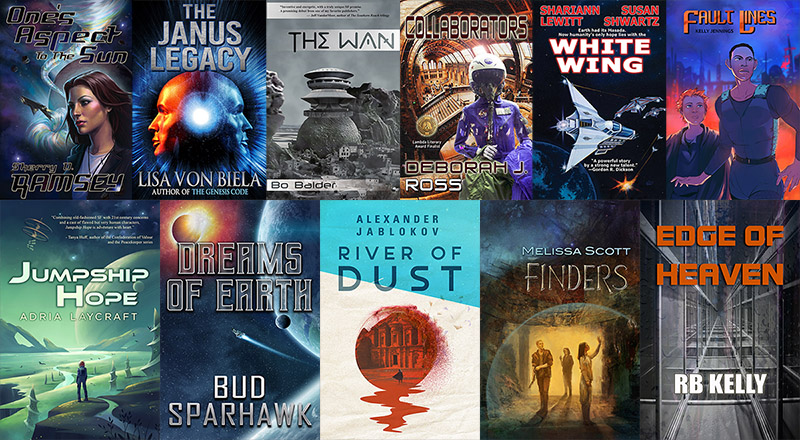 The Starting Hurricanes Bundle - Curated by Athena Andreadis
"Unhappy is the land that needs a hero." —Bertolt Brecht, Life of Galileo
"This is the hour of the Shire-folk, when they arise from their quiet fields to shake the towers and counsels of the Great." —Elrond of Rivendell, The Fellowship of the Ring
The Starting Hurricanes StoryBundle offers eleven fascinating speculative works that explore the concept of great changes wrought by people who are not Chosen Ones nor have god-like powers. Science fiction and fantasy (henceforth SFF) rely too heavily on these two modes; as a result, "mundanes" are often belittled, too frequently shown bereft of agency, imagination, courage or any ethical/moral compass beyond narrow self-interest.
This goes hand-in-hand with the predilection of the genre for autocratic authority structures, too frequently headed by charismatic psychopaths who are given huge dollops of leeway, to say nothing of boasting "optimal" genes (which demonstrates most SFF authors' fundamental misunderstanding of genetics and evolution). Almost always ignored are the loyalty networks and the sense of collective investment that actually make cultures and societies function—but also malfunction, when manipulated by grifters or thugs.
As the astrogator of acclaimed small indie press Candlemark & Gleam, I've had the honor and pleasure of helping to create and release some of the best new works that show that "regular people" can show transformative vision and power, for good or ill. And now I get to share such thought-experiments and flights of informed fancy with you in this kaleidoscopic bundle which explores the premise that even fluttering of insect wings can start hurricanes.
The settings in this bundle range from several versions of a devastated Earth to a Mars where terraforming attempts failed; from humanity in complex interplanetary conflicts to disquieting alien biologies; from exiles in search of a home to underdogs suffocated from being evaluated by rigid labels. The subgenres include space opera, near-future dystopia, far futures with magic-like technology, first contacts, adaptations to planetfalls. Hovering over all these explorations is the specter of the inherent limitations (and hence immovable dilemmas) of our physiologies—and the blinkers of our assumptions, that are often more hard-wired than we'd like to think.
A question that has been at the forefront of humanity's individual and collective thoughts is "How do we live honest, honorable lives?" It shapes cultures, societies, ethics systems; it determines what to pursue in science and art. And it's not reserved to elites but one that each human being ponders, no matter what their circumstances. The works in this bundle ask this question from multiple directions and come up with fascinating SFnal takes on this universal query, while also presenting riveting alternative worlds.
So strap into your acceleration couch, go through the preflight check and start the countdown to the jump. The Starting Hurricanes bundle will take you on astonishing journeys. And keep frequencies open for more StoryBundles curated by Candlemark & Gleam!
– Athena Andreadis
* * *
For StoryBundle, you decide what price you want to pay. For $5 (or more, if you're feeling generous), you'll get the basic bundle of four books in any ebook format—WORLDWIDE.
Dreams of Earth by Bud Sparhawk
The Janus Legacy by Lisa von Biela
Jumpship Hope by Adria Laycraft
One's Aspect to the Sun by Sherry D. Ramsey
If you pay at least the bonus price of just $15, you get all four of the regular books, plus seven more books! That's a total of 11!
Fault Lines by Kelly Jennings
The Wan by Bo Balder
River of Dust by Alexander Jablokov
Finders by Melissa Scott
Collaborators by Deborah J. Ross
White Wing by Shariann Lewitt and Susan Shwartz
Edge of Heaven by RB Kelly
This bundle is available only for a limited time via http://www.storybundle.com. It allows easy reading on computers, smartphones, and tablets as well as Kindle and other ereaders via file transfer, email, and other methods. You get multiple DRM-free formats (.epub, .mobi) for all books!
It's also super easy to give the gift of reading with StoryBundle, thanks to our gift cards – which allow you to send someone a code that they can redeem for any future StoryBundle bundle – and timed delivery, which allows you to control exactly when your recipient will get the gift of StoryBundle.
Why StoryBundle? Here are just a few benefits StoryBundle provides.
Get quality reads: We've chosen works from excellent authors to bundle together in one convenient package.
Pay what you want (minimum $5): You decide how much these fantastic books are worth. If you can only spare a little, that's fine! You'll still get access to a batch of exceptional titles.
Support authors who support DRM-free books: StoryBundle is a platform for authors to get exposure for their works, both for the titles featured in the bundle and for the rest of their catalog. Supporting authors who let you read their books on any device you want—restriction free—will show everyone there's nothing wrong with ditching DRM.
Give to worthy causes: Bundle buyers have a chance to donate a portion of their proceeds to Mighty Writers and Girls Write Now!
Receive extra books: If you beat the bonus price, you'll get the bonus books!
StoryBundle was created to give a platform for independent authors to showcase their work, and a source of quality titles for thirsty readers. StoryBundle works with authors to create bundles of ebooks that can be purchased by readers at their desired price. Before starting StoryBundle, Founder Jason Chen covered technology and software as an editor for Gizmodo.com and Lifehacker.com.
For more information, visit our website at storybundle.com, tweet us at @storybundle and like us on Facebook. For press inquiries, please email press@storybundle.com.