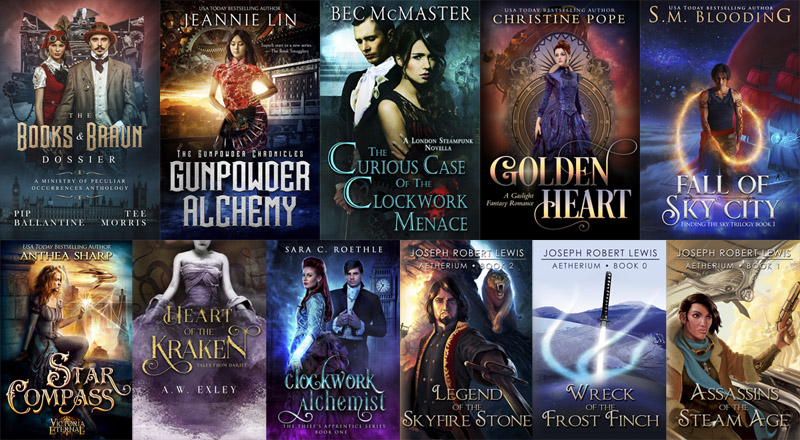 The Summer Steampunk Bundle - Curated by Anthea Sharp
Have you had the marvelous pleasure of reading Steampunk yet? Whether you're a long time fan or new to the genre, this is your chance! Melding alternate 19th century history, steam-powered or clockwork technology, elements of mystery, the paranormal, romance, science fiction, and fantasy, authors have a wonderful variety of elements to play with. As a result, some of the most innovative and immersive world building can be found within the Steampunk genre, and this StoryBundle is no exception.
I'm delighted to include in this collection some of the top names in Steampunk fiction, like award winners Pip Ballantine and Tee Morris, and Bec McMaster. USA Today bestsellers Jeannie Lin, Christine Pope, and SM Blooding write in a variety of genres, but bring their storytelling skills to the genre. And rounding out the bundle, you'll find indie favorites A.W. Exley, Sara C. Roethle, and Joseph Lewis, for a cornucopia of Steampunk stories exploring several sub-niches of the genre.
In addition to alchemists, automatons, and airship aviators, you'll find the Chinese Ministry of Science, a sacrificial mermaid beset by pirates, the queen ruling from a gear-filled city in the clouds, a gothic castle in Romania, and Victorians in space.
Packed with USA Today bestsellers and award-winning authors, the Steampunk StoryBundle also features three exclusives! That's fully one third of this collection that can be found nowhere else. So what are you waiting for? Grab this bundle today!– Anthea Sharp
The initial titles in the The Summer Steampunk Bundle (minimum $5 to purchase) are:
Star Compass by Anthea Sharp (StoryBundle Exclusive!)
Gunpowder Alchemy by Jeannie Lin
Legend of the Skyfire Stone - Aetherium Book 2 by Joseph Robert Lewis
If you pay at least the bonus price of just $15, you get all three of the regular titles, plus SIX more!
The Curious Case Of The Clockwork Menace by Bec McMaster
The Books & Braun Dossier by Pip Ballantine and Tee Morris (StoryBundle Exclusive!)
Heart of the Kraken by A.W. Exley
Golden Heart by Christine Pope (StoryBundle Exclusive!)
Fall of Sky City - Finding the Sky Trilogy Book 1 by S.M. Blooding
Clockwork Alchemist - The Thief's Apprentice Series Book 1 by Sara C. Roethle
As a special thanks for being a newsletter subscriber, we're also including two books, Wreck of the Frost Finch - Aetherium Book 0 by Joseph Robert Lewis and Assassins of the Steam Age - Aetherium Book 1 by Joseph Robert Lewis for FREE during the life of the bundle. You just need to be a StoryBundle newsletter subscriber. If you're not yet already receiving our emails about new bundles, you can sign up any time until July 5 and get a copy of these two books!
This bundle is available only for a limited time via http://www.storybundle.com. It allows easy reading on computers, smartphones, and tablets as well as Kindle and other ereaders via file transfer, email, and other methods. You get multiple DRM-free formats (.epub and .mobi) for all books!
It's also super easy to give the gift of reading with StoryBundle, thanks to our gift cards – which allow you to send someone a code that they can redeem for any future StoryBundle bundle – and timed delivery, which allows you to control exactly when your recipient will get the gift of StoryBundle.
Why StoryBundle? Here are just a few benefits StoryBundle provides.
Get quality reads: We've chosen works from excellent authors to bundle together in one convenient package.
Pay what you want (minimum $5): You decide how much these fantastic books are worth. If you can only spare a little, that's fine! You'll still get access to a batch of exceptional titles.
Support authors who support DRM-free books: StoryBundle is a platform for authors to get exposure for their works, both for the titles featured in the bundle and for the rest of their catalog. Supporting authors who let you read their books on any device you want—restriction free—will show everyone there's nothing wrong with ditching DRM.
Give to worthy causes: Bundle buyers have a chance to donate a portion of their proceeds to Mighty Writers and Girls Write Now!
Receive extra books: If you beat the bonus price, you'll get the bonus books!
StoryBundle was created to give a platform for independent authors to showcase their work, and a source of quality titles for thirsty readers. StoryBundle works with authors to create bundles of ebooks that can be purchased by readers at their desired price. Before starting StoryBundle, Founder Jason Chen covered technology and software as an editor for Gizmodo.com and Lifehacker.com.
For more information, visit our website at storybundle.com, tweet us at @storybundle and like us on Facebook. For press inquiries, please email press@storybundle.com.