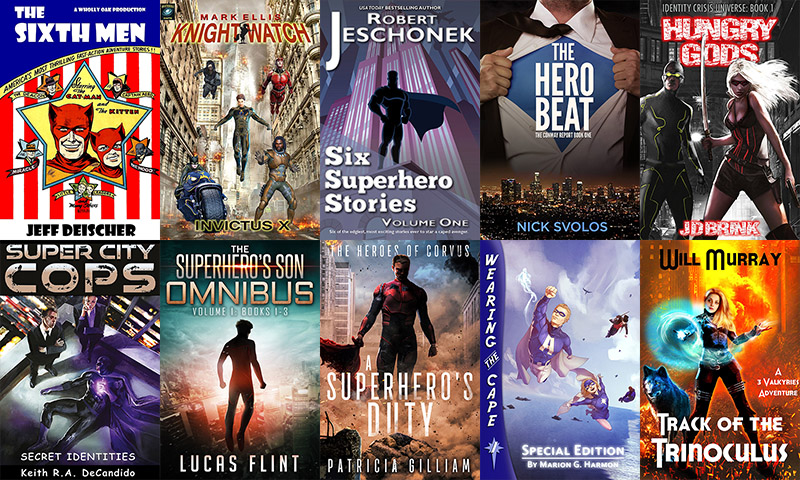 The Superhero Spectacular Bundle - Curated by Robert Jeschonek
You'd look good with a cape on, you know that? We all would. Our lives are superhero stories, after all, and we are the main characters.
We all have origin stories in which we gain power and come into our own. We face struggles and have adventures, learning and growing stronger from our setbacks. We battle villains, whether they are flesh-and-blood external bad guys or internal enemies, and they nearly vanquish us in high-stakes strife…only to fall when we tap our deepest reserves of power and ingenuity. We are the heroes of our own stories, embarking on epic journeys to fulfill our destinies and perhaps make the world a better place along the way.
It's no wonder we love comics and cinematic universes bursting at the seams with superhero stories. It's no surprise that superhero fiction is such a popular genre, one where all things seem possible, and avatars on the page and screen embody all the grand qualities we yearn to exemplify.
Like the gods and heroes of ancient myth, today's superheroes facilitate our dreams, make our lives less lonely, and feed our intuitive craving for larger-than-life storytelling. They also give us room to invent and improvise, adding our own twists and techniques to the tried-and-true bedrock of the legendary stories we share. Superhero tales are a massive genre indeed, a forward-looking, cutting-edge type of story that seems like an especially good fit for the modern era. Such stories are often more experimental and take bigger risks than other genres, opening up possibilities for even greater achievements in the form to come.
For all these reasons and more, I decided to launch the Superhero Spectacular bundle, bringing together a team-up of the top talents writing in the field today. Each brings their own unique voice and twist to the genre, always something fresh and exciting that you haven't seen in quite the same way before. In Wearing the Cape: A Superhero Story, Marion Harmon tells the story of a sidekick stepping up to become a full-blown hero. In Heroes of Corvus: A Superhero's Duty, Patricia Gilliam takes us on a deep dive into the mind of a tragic hero seeking redemption. Lost heroes of the Golden Age return to challenge ultimate evil in The Sixth Men by Jeff Deischer, as Mark Ellis unleashes a powered-up superhero team against their opposite number supervillain army in Knightwatch: Invictus X. Lucas Flint brings us the tale of a teenage powerhouse in the crosshairs in The Superhero's Son, while J.D. Brink puts a rookie hero through the ultimate wringer in Hungry Gods. Then there are the tales of ordinary people caught in the orbits of extraordinary superhumans, as everyday cops deal with super-crimes and their aftermath in Keith R.A. DeCandido's Super City Cops: Secret Identities. Another average human—a reporter—seeks the truth about a dark chapter in superhuman history in The Hero Beat: The Conway Report Book One by Nick Svolos. Then there's Track of the Trinoculus, in which pulp fiction and comics grand master Will Murray introduces a trio of Valkyrie sisters with amazing powers and very relatable personalities.
By the time you're done with this thrilling and colorful collection, you will have a deeper understanding of superhero fiction's most exciting new chapters…and perhaps you'll have a greater desire to explore that action-packed and inspirational field more thoroughly. There's much more to superhero storytelling than the cinematic universes that are currently so popular on the big and small screen alike. It is, I believe, the most promising fiction of today and tomorrow, one that represents much of what we need most and most long to achieve. It is close to our hearts and souls, emblematic of all that is best in us and our civilization.
All our lives are superhero stories, after all, and we are the main characters undertaking the hero's journey.
– Robert Jeschonek
* * *
For StoryBundle, you decide what price you want to pay. For $5 (or more, if you're feeling generous), you'll get the basic bundle of four books in .epub format—WORLDWIDE.
Six Superhero Stories by Robert Jeschonek
The Hero Beat by Nick Svolos
Knightwatch by Mark Ellis
The Sixth Men by Jeff Deischer
If you pay at least the bonus price of just $20, you get all four of the regular books, plus six more books for a total of 10!
Track of the Trinoculus by Will Murray
A Superhero's Duty by Patricia Gilliam
Wearing the Cape - Special Edition by Marion G. Harmon
The Superhero's Son - Books 1-3 by Lucas Flint
Secret Identities by Keith R.A. DeCandido (StoryBundle Exclusive)
Hungry Gods by J. D. Brink
This bundle is available only for a limited time via http://www.storybundle.com. It allows easy reading on computers, smartphones, and tablets as well as Kindle and other ereaders via file transfer, email, and other methods. You get a DRM-free .epub for all books!
It's also super easy to give the gift of reading with StoryBundle, thanks to our gift cards – which allow you to send someone a code that they can redeem for any future StoryBundle bundle – and timed delivery, which allows you to control exactly when your recipient will get the gift of StoryBundle.
Why StoryBundle? Here are just a few benefits StoryBundle provides.
Get quality reads: We've chosen works from excellent authors to bundle together in one convenient package.
Pay what you want (minimum $5): You decide how much these fantastic books are worth. If you can only spare a little, that's fine! You'll still get access to a batch of exceptional titles.
Support authors who support DRM-free books: StoryBundle is a platform for authors to get exposure for their works, both for the titles featured in the bundle and for the rest of their catalog. Supporting authors who let you read their books on any device you want—restriction free—will show everyone there's nothing wrong with ditching DRM.
Give to worthy causes: Bundle buyers have a chance to donate a portion of their proceeds to AbleGamers!
Receive extra books: If you beat the bonus price, you'll get the bonus books!
StoryBundle was created to give a platform for independent authors to showcase their work, and a source of quality titles for thirsty readers. StoryBundle works with authors to create bundles of ebooks that can be purchased by readers at their desired price. Before starting StoryBundle, Founder Jason Chen covered technology and software as an editor for Gizmodo.com and Lifehacker.com.
For more information, visit our website at storybundle.com, tweet us at @storybundle and like us on Facebook. For press inquiries, please email press@storybundle.com.