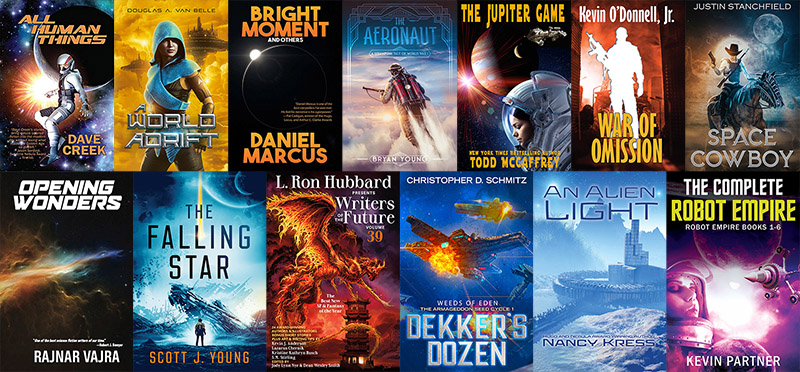 To the Stars Adventure SF Bundle - curated by Kevin J. Anderson
This new StoryBundle will take your autumn, and your e-reader, to the far edges of the universe. Curated by bestselling author Kevin J. Anderson, this cosmic batch of eighteen books showcases the range of epic science fiction, from galactic empires to time-travel adventures to alien invasions. These books are from classic award-winning science fiction authors and hot new indie authors.
Here are the titles that will fill your imagination:
Opening Wonders, by Rajnar Vajra
Countless un-parallel universes intersect in a place where science and magic function perfectly.
An Alien Light, by Nancy Kress
Epic in scope, peopled by characters from every strata of profoundly different societies, An Alien Light is an unflinching look at the strengths and weaknesses of the genetic, evolutionary, and historical inheritance that all of us share.
War of Omission, by Kevin O'Donnell, Jr.
What if you created a devastating technology—the Time-Space Separator Unit, the "Tisser"—that could literally erase a person or place from the time-space continuum, as if they had never existed?
Bright Moment and Others, by Daniel Marcus
Timeless tales of saints and scoundrels, sinners and seekers, all from epic fantasy and space opera worlds that are both alien and hauntingly familiar.
Space Cowboy, by Justin Stanchfield
A gripping adventure in the wild west of space.
The Aeronaut, by Bryan Young
Action, espionage, and romance in an alternate version of World War I.
A World Adrift, by Douglas A. Van Belle
Venus has become a world of Zeppelin cities where merchants fly carbon-fiber airships. Whalers harpoon tin behemoths that rise from the murky depths. And the only woman who can save it all from ruin is being hunted by a man willing to do anything to seize her father's empire.
Writers of the Future Vol 39
In the world of speculative fiction some of your favorite authors selected these stories for you to read. Discover 24 award-winning authors and illustrators with bonus short stories by Kevin J. Anderson, L. Ron Hubbard, and S. M. Stirling
The Jupiter Game, by Todd McCaffrey
First Contact. The aliens have reached out. At Jupiter. Why Jupiter? What's their game?
The Complete Robot Empire Boxed Set, by Kevin Partner
Six books in one package! The crew of asteroid ship Dawn emerge from a thousand years in interstellar space to find themselves in the midst of war between the remnants of the galactic civilization and the robot empire. Can they lead humanity in its fight against the singularity, or is this the end of organic life in the universe?
Dekker's Dozen, by Christopher D. Schmitz
Dekker Knight has a secret past. Vivian "Vesuvius" Briggs has a sword and a chip on her shoulder. Together they run a crew of delinquent space mercenaries: the Dozen.
All Human Things, by Dave Creek
Explorer Mike Christopher returns to Earth after a quarter-century to battle an alien threat, but also faces a soul-crushing moral dilemma!
The Falling Star, by Scott J. Young
After unwittingly betraying his crew, Halstaan seeks to right the wrong that enslaved his shipmates and along the way encounters an enemy that threatens the entire galaxy.
– Kevin J. Anderson
* * *
For StoryBundle, you decide what price you want to pay. For $5 (or more, if you're feeling generous), you'll get the basic bundle of four books in .epub format—WORLDWIDE.
Bright Moment and Others by Daniel Marcus
A World Adrift by Douglas A. Van Belle
The Jupiter Game by Todd McCaffrey
All Human Things by Dave Creek
If you pay at least the bonus price of just $20, you get all five of the regular books, plus nine more books for a total of 13!
Writers of the Future: Volume 39 edited by Jody Lynn Nye and Dean Wesley Smith
The Aeronaut by Bryan Young
Space Cowboy by Justin Stanchfield
War of Omission by Kevin O'Donnell, Jr.
An Alien Light by Nancy Kress
Opening Wonders by Rajnar Vajra
The Falling Star by Scott J. Young
The Complete Robot Empire - Books 1-6 by Kevin Partner
Dekker's Dozen by Christopher D. Schmitz
This bundle is available only for a limited time via http://www.storybundle.com. It allows easy reading on computers, smartphones, and tablets as well as Kindle and other ereaders via file transfer, email, and other methods. You get a DRM-free .epub for all books!
It's also super easy to give the gift of reading with StoryBundle, thanks to our gift cards – which allow you to send someone a code that they can redeem for any future StoryBundle bundle – and timed delivery, which allows you to control exactly when your recipient will get the gift of StoryBundle.
Why StoryBundle? Here are just a few benefits StoryBundle provides.
Get quality reads: We've chosen works from excellent authors to bundle together in one convenient package.
Pay what you want (minimum $5): You decide how much these fantastic books are worth. If you can only spare a little, that's fine! You'll still get access to a batch of exceptional titles.
Support authors who support DRM-free books: StoryBundle is a platform for authors to get exposure for their works, both for the titles featured in the bundle and for the rest of their catalog. Supporting authors who let you read their books on any device you want—restriction free—will show everyone there's nothing wrong with ditching DRM.
Give to worthy causes: Bundle buyers have a chance to donate a portion of their proceeds to the Challenger Center for Space Education!
Receive extra books: If you beat the bonus price, you'll get the bonus books!
StoryBundle was created to give a platform for independent authors to showcase their work, and a source of quality titles for thirsty readers. StoryBundle works with authors to create bundles of ebooks that can be purchased by readers at their desired price. Before starting StoryBundle, Founder Jason Chen covered technology and software as an editor for Gizmodo.com and Lifehacker.com.
For more information, visit our website at storybundle.com, tweet us at @storybundle and like us on Facebook. For press inquiries, please email press@storybundle.com.