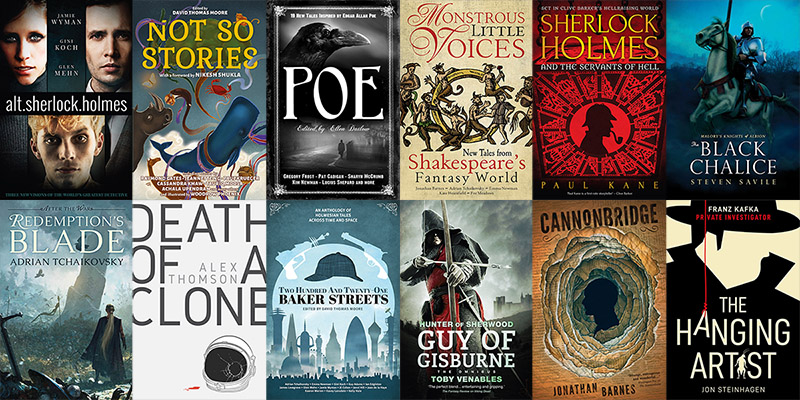 We've all got our favourite classic stories; fairy tales, murder mysteries, sagas of derring-do and good deeds, mistaken identities and timeless jokes, or the monsters hiding in the shadows.
But we know those stories.
What happens when you give them a twist?
Sherlock Holmes and King Arthur, Robin Hood and Agatha Christie. Shakespeare, Kipling and Edgar Allan Poe. Kafka (with cockroach sidekick) and Tolkien (after the war's over).
And to top it all off there's Cannonbridge, the genius poet of the 19th century, darling of every literary scene – who should never have existed at all…
These are the stories that you've read – but not the storylines you remember.
This collection of Rebellion's favourite twists on classic tales brings together Adrian Tchaikovsky, Cassandra Khaw, Paul Keane, Jeannette Ng, Jon Steinhagen, Emma Newman, Toby Venables and many others, including inspirational anthologies from editor David Thomas Moore.
For StoryBundle, you decide what price you want to pay. For $5 (or more, if you're feeling generous), you'll get the basic bundle of four books in any ebook format—WORLDWIDE.
Monstrous Little Voices by Jonathan Barnes, Adrian Tchaikovsky and More!
Poe by Ellen Datlow
alt.sherlock.holmes by Jamie Wyman, Gini Koch and Glen Mehn
Not So Stories by David Thomas Moore
If you pay at least the bonus price of just $15, you get all four of the regular books, plus EIGHT more books!
The Black Chalice by Steven Savile
Sherlock Holmes and the Servants of Hell by Paul Kane
Redemption's Blade by Adrian Tchaikovsky
The Hanging Artist by Jon Steinhagen
Cannonbridge by Jonathan Barnes
Death of a Clone by Alex Thomson
Two Hundred and Twenty-One Baker Streets by David Thomas Moore
Guy of Gisburne by Toby Venables
This bundle is available only for a limited time via http://www.storybundle.com. It allows easy reading on computers, smartphones, and tablets as well as Kindle and other ereaders via file transfer, email, and other methods. You get multiple DRM-free formats (.epub and .mobi) for all books!
It's also super easy to give the gift of reading with StoryBundle, thanks to our gift cards – which allow you to send someone a code that they can redeem for any future StoryBundle bundle – and timed delivery, which allows you to control exactly when your recipient will get the gift of StoryBundle.
Why StoryBundle? Here are just a few benefits StoryBundle provides.
Get quality reads: We've chosen works from excellent authors to bundle together in one convenient package.
Pay what you want (minimum $5): You decide how much these fantastic books are worth. If you can only spare a little, that's fine! You'll still get access to a batch of exceptional titles.
Support authors who support DRM-free books: StoryBundle is a platform for authors to get exposure for their works, both for the titles featured in the bundle and for the rest of their catalog. Supporting authors who let you read their books on any device you want—restriction free—will show everyone there's nothing wrong with ditching DRM.
Give to worthy causes: Bundle buyers have a chance to donate a portion of their proceeds to Mighty Writers and Girls Write Now!
Receive extra books: If you beat the bonus price, you'll get the bonus books!
StoryBundle was created to give a platform for independent authors to showcase their work, and a source of quality titles for thirsty readers. StoryBundle works with authors to create bundles of ebooks that can be purchased by readers at their desired price. Before starting StoryBundle, Founder Jason Chen covered technology and software as an editor for Gizmodo.com and Lifehacker.com.
For more information, visit our website at storybundle.com, tweet us at @storybundle and like us on Facebook. For press inquiries, please email press@storybundle.com.