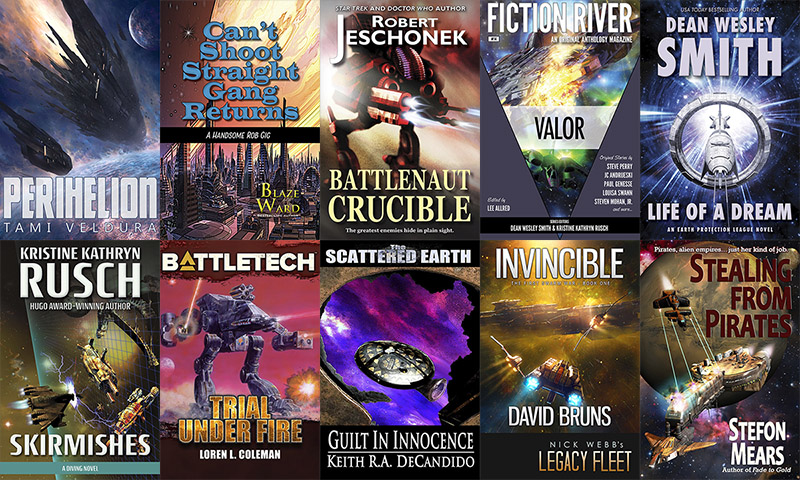 The Valor: Military Science Fiction Bundle - Curated by Dean Wesley Smith
Even though I am not known for writing military science fiction, I may have written more military sf novels than just about anyone. Not kidding. Why is that? I am known for writing Star Trek and that is military science fiction at its finest. But often readers don't think of Star Trek as military science fiction. It is just Star Trek.
My second published novel was a Star Trek novel in the Deep Space Nine series under a pen name and written with Kristine Kathryn Rusch. I ended up writing thirty-five Star Trek novels over the next decade, sometimes under my own name, sometimes with Kris, sometimes under other pen names.
And I loved it. And I still to this day love the form of military science fiction and write numbers of books and series that are military sf. I think writing military science fiction is in my blood.
When I got the privilege of putting this bundle together, the very first book I thought of was the fantastic volume Fiction River: Valor. Editor Lee Allred may have put together one of the best collections of military science fiction I have had the privilege to read.
And, of course, the next thing I thought of was a stand-alone Diving Series book by New York Times bestselling author Kristine Kathryn Rusch. Her Diving Series takes the idea of military science fiction and makes it real, with fantastic sf elements and military details that feel right. So I asked for Skirmishes: A Diving Universe Novel and luckily it was available.
Next I turned to bestselling writer Loren L. Coleman. Loren is known for writing some of the best books in the BattleTech Universe created by Jordon Weisman. As it so happened, Loren had rights to a BattleTech novel he had written and we are lucky to have such a fantastic example of military sf in this bundle. Thanks, Loren!
Veteran bestselling writer Keith DeCandido, also known for Star Trek, both editing and writing, plus many other military sf books, had a book available in one of his bestselling series. And Blaze Ward, one of the top up-and-coming military sf writers was just finishing a book and allowed me to include it.
Then things really fell into place as quickly I got four yes answers for four wonderful military sf books by Tami Veldura, Stefon Mears, David Bruns, and Robert Jeschonek. Great books, all of them.
It was Kris who suggested that for the last book in the bundle I balance the seriousness with my military sf book of old people in space. Actually, my novel is very serious about aging, but the military part is great fun. So I added Life is a Dream.
Nine novels and an amazing short story collection make this a fantastic military science fiction bundle that I very proud to have put together.
Plus, another bonus: Our charity, AbleGamers, helps people with disabilities enjoy the imaginary worlds of video games all year, as well as in the holidays. The organization provides one-on-one assistance to help people with a variety of disabilities join the lively interactive world of gaming, easing the social isolation that being disabled can bring.
Can't think of a better cause to help out.
So here's what you can do: buy the bundle for yourself or your friends who love military science fiction stories, then toss in a few bucks for AbleGamers. Helping others while getting some top science fiction reading. It doesn't get any better than that.
Also, the holidays are coming up and you can give this as a gift.
And remember, this bundle won't last very long. Grab this bundle today and toss in a little extra for AbleGamers. You'll make someone's life a little brighter, and have hours of wonderful science fiction reading going into the holidays. – Dean Wesley Smith
For StoryBundle, you decide what price you want to pay. For $5 (or more, if you're feeling generous), you'll get the basic bundle of four books in any ebook format—WORLDWIDE.
Perihelion by Tami Veldura
Battlenaut Crucible by Robert Jeschonek
Valor by Fiction River
Can't Shoot Straight Gang Returns by Blaze Ward
If you pay at least the bonus price of just $15, you get all four of the regular books, plus SIX more!
Stealing From Pirates by Stefon Mears
Trial Under Fire - A BattleTech Novel by Loren L. Coleman
Skirmishes: A Diving Novel by Kristine Kathryn Rusch
Guilt in Innocence by Keith R.A. DeCandido
Life of a Dream by Dean Wesley Smith
Invincible by David Bruns
This bundle is available only for a limited time via http://www.storybundle.com. It allows easy reading on computers, smartphones, and tablets as well as Kindle and other ereaders via file transfer, email, and other methods. You get multiple DRM-free formats (.epub and .mobi) for all books!
It's also super easy to give the gift of reading with StoryBundle, thanks to our gift cards – which allow you to send someone a code that they can redeem for any future StoryBundle bundle – and timed delivery, which allows you to control exactly when your recipient will get the gift of StoryBundle.
Why StoryBundle? Here are just a few benefits StoryBundle provides.
Get quality reads: We've chosen works from excellent authors to bundle together in one convenient package.
Pay what you want (minimum $5): You decide how much these fantastic books are worth. If you can only spare a little, that's fine! You'll still get access to a batch of exceptional titles.
Support authors who support DRM-free books: StoryBundle is a platform for authors to get exposure for their works, both for the titles featured in the bundle and for the rest of their catalog. Supporting authors who let you read their books on any device you want—restriction free—will show everyone there's nothing wrong with ditching DRM.
Give to worthy causes: Bundle buyers have a chance to donate a portion of their proceeds to AbleGamers!
Receive extra books: If you beat the bonus price, you'll get the bonus books!
StoryBundle was created to give a platform for independent authors to showcase their work, and a source of quality titles for thirsty readers. StoryBundle works with authors to create bundles of ebooks that can be purchased by readers at their desired price. Before starting StoryBundle, Founder Jason Chen covered technology and software as an editor for Gizmodo.com and Lifehacker.com.
For more information, visit our website at storybundle.com, tweet us at @storybundle and like us on Facebook. For press inquiries, please email [email protected].