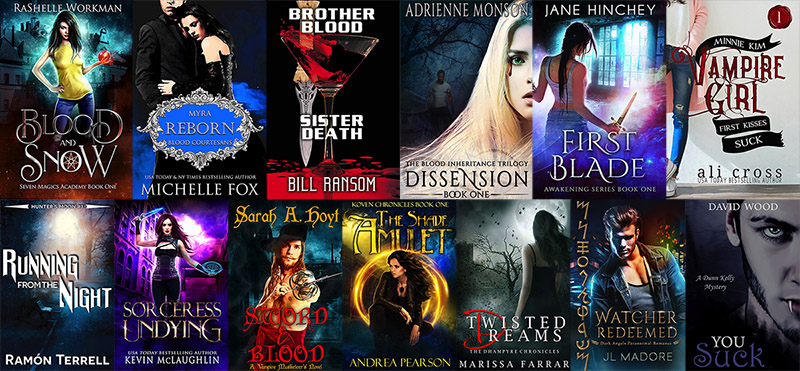 The Vampires! Bundle - Curated by bestselling author Kevin J. Anderson
Now here's a bunch of books you can sink your teeth into! The Vampires! StoryBundle abounds with the blood-sucking best! Thirteen page-turners across the spectrum of vampire fiction, and all of them with fangs!
If you like Vampire Suspense or Mystery, you'll enjoy Brother Blood and Sister Death by Bill Ransom. Human-vampire fraternal twins with dangerous sibling issues run from near-fatal mistakes in the city to sequester themselves outside a rural fishing town. This is a special sneak-preview release for this bundle, not available elsewhere until December! And Running from the Night by Ramón Terrell. An action-packed ride filled with diverse and fun characters, immortal societies existing alongside our own, with a pinch of romantic tension. In You Suck by David Wood, Dunn Kelly seldom has a problem covering for his alcoholic father, the only Special Populations detective on the police force, but when teen pop star Delilah Idaho sees a wrinkle on her forehead, Dunn's world is turned upside-down.
Four of the titles are Vampire Romance. In Dissension by Adrienne Monson, vampires and Immortals battle each other to find a prophecy child—someone who could destroy them all. In Blood Courtesans Reborn by Michelle Fox: in a world where vampires are real, blood is money and love bites back. J.L. Madore's Watcher Redeemed: She wanted him dead... or in her bed. Or, on a more YA-level, First Kisses Suck by Ali Cross. When Minnie said she was dying for the perfect first kiss, she didn't mean literally. Twisted Dreams by Marisa Farrar is a more paranormal vampire romance: Starting college is never easy, but it's even harder when your father is a vampire...
For Urban Fantasy vampires, the bundle includes First Blade by Jane Hinchey. Georgia possesses remarkable psychic abilities, but when she discovers an ancient dagger hidden in her workshop, she knows it can only mean one thing. Trouble! In The Shade Amulet by Andrea Pearson: Lizzie thought being a professional Fire Impeder was dangerous, but using her magic to stop weapons is nothing compared to what happens when the local police department calls her in on a disturbing murder investigation.
And vampires are found in non-modern settings, too. Sarah Hoyt's alternate history adventure, Sword and Blood is set in a France where Richelieu is a vampire, and the king's musketeers fight the undead... until one of them is turned. In Blood and Snow by RaShelle Workman. Snow White didn't plan on getting bitten by a vampire her first year at the academy. And in Kevin McLauchlin's Sorcerers Undying, what does a four-hundred-year-old sorceress fear most? Her past. And the ghosts from early days which still haunt her…
The Vampires StoryBundle will be available for only three weeks. With StoryBundle, you receive ebook editions of these great bloodsucking adventures. Name your price, whatever you feel the bundle is worth. For a minimum of $5 you receive the base four books, or for as little as $15, receive all thirteen novels. A portion of the proceeds goes to support the Challenger Learning Centers for Space Science Education, and the remainder helps indie authors.
Buckle up, grab your crosses and garlic wreaths, and start reading.
Dissension - The Blood Inheritance Trilogy Book 1 by Adrienne Monson
Twisted Dreams by Marissa Farrar
Running from the Night by Ramón Terrell
Reborn: Vampire Blood Courtesans by Michelle Fox
If you pay at least the bonus price of just $15, you get all four of the regular books, plus NINE more! That's a total of thirteen tremendous reads!
First Kisses Suck - Minnie Kim: Vampire Girl #1 by Ali Cross
The Shade Amulet - Koven Chronicles Book One by Andrea Pearson
Brother Blood/Sister Death by Bill Ransom
You Suck by David Wood
Watcher Redeemed by JL Madore
First Blade by Jane Hinchey
Sorceress Undying by Kevin McLaughlin
Blood and Snow by RaShelle Workman
Sword & Blood by Sarah A. Hoyt
This bundle is available only for a limited time via http://www.storybundle.com. It allows easy reading on computers, smartphones, and tablets as well as Kindle and other ereaders via file transfer, email, and other methods. You get multiple DRM-free formats (.epub and .mobi) for all books!
It's also super easy to give the gift of reading with StoryBundle, thanks to our gift cards – which allow you to send someone a code that they can redeem for any future StoryBundle bundle – and timed delivery, which allows you to control exactly when your recipient will get the gift of StoryBundle.
Why StoryBundle? Here are just a few benefits StoryBundle provides.
Get quality reads: We've chosen works from excellent authors to bundle together in one convenient package.
Pay what you want (minimum $5): You decide how much these fantastic books are worth. If you can only spare a little, that's fine! You'll still get access to a batch of exceptional titles.
Support authors who support DRM-free books: StoryBundle is a platform for authors to get exposure for their works, both for the titles featured in the bundle and for the rest of their catalog. Supporting authors who let you read their books on any device you want—restriction free—will show everyone there's nothing wrong with ditching DRM.
Give to worthy causes: Bundle buyers have a chance to donate a portion of their proceeds to The Challenger Center for Space Education!
Receive extra books: If you beat the bonus price, you'll get the bonus books!
StoryBundle was created to give a platform for independent authors to showcase their work, and a source of quality titles for thirsty readers. StoryBundle works with authors to create bundles of ebooks that can be purchased by readers at their desired price. Before starting StoryBundle, Founder Jason Chen covered technology and software as an editor for Gizmodo.com and Lifehacker.com.
For more information, visit our website at storybundle.com, tweet us at @storybundle and like us on Facebook. For press inquiries, please email press@storybundle.com.