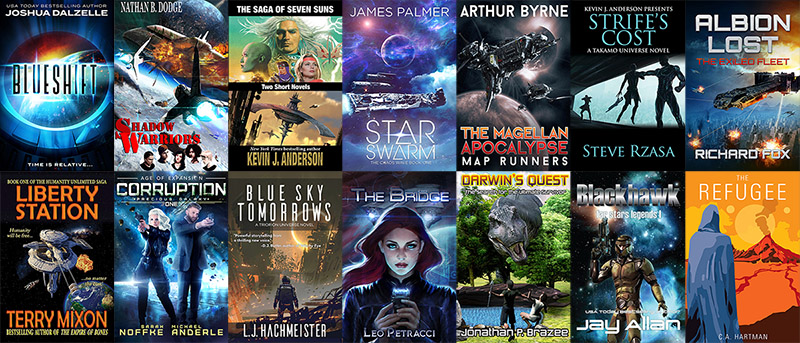 Warp Speed Ahead! A new adventure SF StoryBundle curated by bestselling author Kevin J. Anderson
As the summer winds down, it's time to ramp up your reading—faster than the speed of imagination. The Warp Speed Ahead StoryBundle contains fourteen action-packed science fiction adventures to take your e-reader from the far ends of the universe to the vagaries of time.
Name your own price for the whole batch, which includes:
Liberty Station by Terry Mixon: Harry and Jess thought the attack by corporate mercenaries under a lost Mayan pyramid was the most dangerous—and strangest—thing they'd have to deal with. They couldn't have been more wrong.
Strife's Cost by Steve Rzasa: Humanity's struggle to survive invasion by the Naplian Empire leads an ace pilot, an android spy, and an alien thief into the heart of a sinister conspiracy.
Corruption by Sarah Noffke and Michael Anderle: Bailey and Lewis mysteriously find themselves on a damaged and deserted battlecruiser…and whatever was responsible for the explosion and disappearance of the crew is still on the ship.
Albion Lost by Richard Fox: One stricken fleet is Albion's last hope for freedom in this military space opera adventure.
Shadow Warriors by Nathan B. Dodge: Five misfit teenagers are kidnapped by an alien race and forced to train as the crew of starfighter to defend against an enemy that is approaching Earth!
Blue Sky Tomorrows by L.J. Hachmeister: A street-tough kid enters an elite military academy to find his sister—only to find his true enemy lying in wait.
The Bridge by Leo Petracci: A starship is struck by an asteroid on its way to colonize a distant planet. Now, hundreds of years later, the inhabitants must learn to survive deep space without technology or perish.
The Saga of Seven Suns: Two Short Novels by Kevin J. Anderson: A galactic epic filled with alien races, space battles, sentient trees, and incomprehensibly destructive creatures. Includes the prequel to Saga of Seven Suns and the prequel to Saga of Shadows.
Blueshift by Joshua Dalzelle: The crew of Daedalus knew what they'd signed up for: a return to an Earth they wouldn't know, centuries after they left. But nothing could prepare them for what they'd find…
Darwin's Quest by Jonathan Brazee: T-Rex? Terror birds? Corter Laurence beat the odds to get selected as a contestant for Darwin's Quest, the most popular reality show in the galaxy. All he has to do is outlast his other 15 castmates and the money and fame will be his.
Blackhawk by Jay Allan: A genetically-engineered warrior, a capable and accomplished killer, he is also a lost soul, a man who has fled to the deepest reaches of space seeking his true identity.
Star Swarm by James Palmer: A maverick first officer, a misfit crew, and an aging vessel are all that stand between humanity and total destruction.
The Refugee by C.A. Hartman: A human geneticist. An alien refugee. And a xenophobic people who want their citizen returned to his native planet... at any cost.
The Magellan Apocalypse by Arthur Byrne: It was supposed to be an easy journey...then came the attack.
With StoryBundle, you receive ebook editions of these great SF adventures. Name your price, whatever you feel the bundle is worth. For a minimum of $5 you receive the base four books, or for as little as $15, receive all fourteen novels. A portion of the proceeds goes to support the Challenger Learning Centers for Space Science Education, and the remainder helps indie authors.
Strap yourself in, fire up the stardrive, and start reading.
http://storybundle.com
For StoryBundle, you decide what price you want to pay. For $5 (or more, if you're feeling generous), you'll get the basic bundle of four books in any ebook format—WORLDWIDE.
Liberty Station by Terry Mixon
Strife's Cost by Steven Rzasa
Corruption - Precious Galaxy Book 1 by Michael Anderle and Sarah Noffke
Albion Lost by Richard Fox
If you pay at least the bonus price of just $15, you get all four of the regular books, plus TEN more!
Shadow Warriors by Nathan B. Dodge
Blue Sky Tomorrows by L.J. Hachmeister
The Bridge by Leo Petracci
The Saga of Seven Suns: Two Short Novels by Kevin J. Anderson
Blueshift by Joshua Dalzelle
Darwin's Quest by Jonathan P. Brazee
Blackhawk by Jay Allan
Star Swarm - The Chaos Wave Book 1 by James Palmer
The Refugee by C.A. Hartman
The Magellan Apocalypse: Map Runner by Arthur Byrne
This bundle is available only for a limited time via http://www.storybundle.com. It allows easy reading on computers, smartphones, and tablets as well as Kindle and other ereaders via file transfer, email, and other methods. You get multiple DRM-free formats (.epub and .mobi) for all books!
It's also super easy to give the gift of reading with StoryBundle, thanks to our gift cards – which allow you to send someone a code that they can redeem for any future StoryBundle bundle – and timed delivery, which allows you to control exactly when your recipient will get the gift of StoryBundle.
Why StoryBundle? Here are just a few benefits StoryBundle provides.
Get quality reads: We've chosen works from excellent authors to bundle together in one convenient package.
Pay what you want (minimum $5): You decide how much these fantastic books are worth. If you can only spare a little, that's fine! You'll still get access to a batch of exceptional titles.
Support authors who support DRM-free books: StoryBundle is a platform for authors to get exposure for their works, both for the titles featured in the bundle and for the rest of their catalog. Supporting authors who let you read their books on any device you want—restriction free—will show everyone there's nothing wrong with ditching DRM.
Give to worthy causes: Bundle buyers have a chance to donate a portion of their proceeds to The Challenger Center for Space Education!
Receive extra books: If you beat the bonus price, you'll get the bonus books!
StoryBundle was created to give a platform for independent authors to showcase their work, and a source of quality titles for thirsty readers. StoryBundle works with authors to create bundles of ebooks that can be purchased by readers at their desired price. Before starting StoryBundle, Founder Jason Chen covered technology and software as an editor for Gizmodo.com and Lifehacker.com.
For more information, visit our website at storybundle.com, tweet us at @storybundle and like us on Facebook. For press inquiries, please email press@storybundle.com.