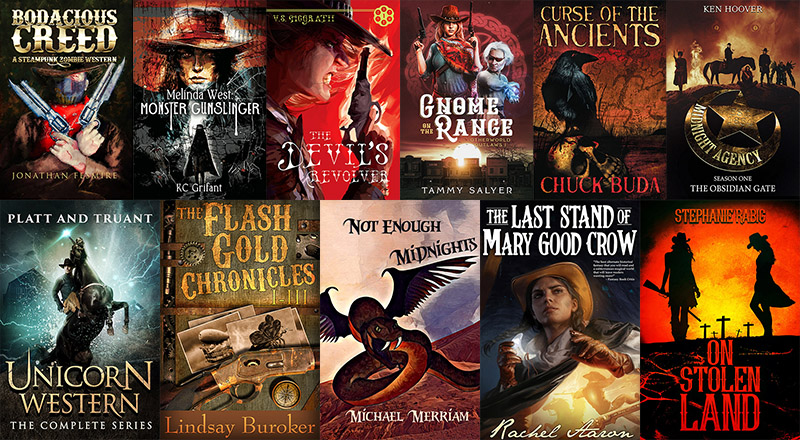 The Weird West Bundle - Curated by Tammy Salyer
Who among us didn't grow up with at least one Old West hero? For me, it was Billy the Kid. Not the lawless, gunslinging psycho killer of real life, but rather the Young Guns movie version: the slick talkin', fast shootin', justice seekin' orphan who along with a band of outcasts used the wilds of nature and chaos of frontier fighting to face down the big bad rancher who tried to kill his mentor. A bit of idealistic bunkum? Sure. But also exactly the kind of delicious mix of ingredients that all good Westerns contain.
Okay, you may be saying, but what do you mean by Weird West? Oh boy, here's where things get REALLY good. Weird West is a subgenre of speculative fiction that combines bits of traditional Western stories with supernatural, science fiction, steampunk, or even horror elements. In other words, it turns the good ole standby of cowboys and Indians firmly on its head, and throws in a dash of shamans and sorcerers, a spritz of steampower and magic (and sometimes steampowered magic!), or a sprinkle of zombies and Fae, and nearly every goldurn one of 'em is a gunslinger!
One of the defining features of the Weird West genre is its sense of adventure and exploration, with no frontier too untamed or too strange. This StoryBundle will appeal to fans of Westerns and fantasy and horror, as it offers a unique blend of each of those (and more) genres. It can also be a great entry point for readers who are new to any of those genres, as it offers a fresh take on familiar themes and tropes.
Overall, this Weird West bundle is an exciting and imaginative blend of many different worlds, and it's a great choice for readers who are looking for something that's both familiar and unexpected. So get out your Double Eagles and ante up for a game of supernatural faro at the Weird West Saloon today! – Tammy Salyer
* * *
For StoryBundle, you decide what price you want to pay. For $5 (or more, if you're feeling generous), you'll get the basic bundle of four books in .epub format—WORLDWIDE.
The Devil's Revolver by V.S. McGrath
Gnome on the Range by Tammy Salyer
Melinda West: Monster Gunslinger by KC Grifant
Bodacious Creed by Jonathan Fesmire
If you pay at least the bonus price of just $20, you get all four of the regular books, plus seven more books for a total of 11!
On Stolen Land by Stephanie Rabig
The Last Stand of Mary Good Crow by Rachel Aaron
Unicorn Western - The Complete Series (Books 1-9) by Platt and Truant
Not Enough Midnights by Michael Merriam
The Flash Gold Chronicles: Vol. I-III by Lindsay Buroker
Midnight Agency - Season One: The Obsidian Gate by Ken Hoover
Curse of the Ancients by Chuck Buda
This bundle is available only for a limited time via http://www.storybundle.com. It allows easy reading on computers, smartphones, and tablets as well as Kindle and other ereaders via file transfer, email, and other methods. You get a DRM-free .epub for all books!
It's also super easy to give the gift of reading with StoryBundle, thanks to our gift cards – which allow you to send someone a code that they can redeem for any future StoryBundle bundle – and timed delivery, which allows you to control exactly when your recipient will get the gift of StoryBundle.
Why StoryBundle? Here are just a few benefits StoryBundle provides.
Get quality reads: We've chosen works from excellent authors to bundle together in one convenient package.
Pay what you want (minimum $5): You decide how much these fantastic books are worth. If you can only spare a little, that's fine! You'll still get access to a batch of exceptional titles.
Support authors who support DRM-free books: StoryBundle is a platform for authors to get exposure for their works, both for the titles featured in the bundle and for the rest of their catalog. Supporting authors who let you read their books on any device you want—restriction free—will show everyone there's nothing wrong with ditching DRM.
Give to worthy causes: Bundle buyers have a chance to donate a portion of their proceeds to Girls Write Now!
Receive extra books: If you beat the bonus price, you'll get the bonus books!
StoryBundle was created to give a platform for independent authors to showcase their work, and a source of quality titles for thirsty readers. StoryBundle works with authors to create bundles of ebooks that can be purchased by readers at their desired price. Before starting StoryBundle, Founder Jason Chen covered technology and software as an editor for Gizmodo.com and Lifehacker.com.
For more information, visit our website at storybundle.com, tweet us at @storybundle and like us on Facebook. For press inquiries, please email press@storybundle.com.