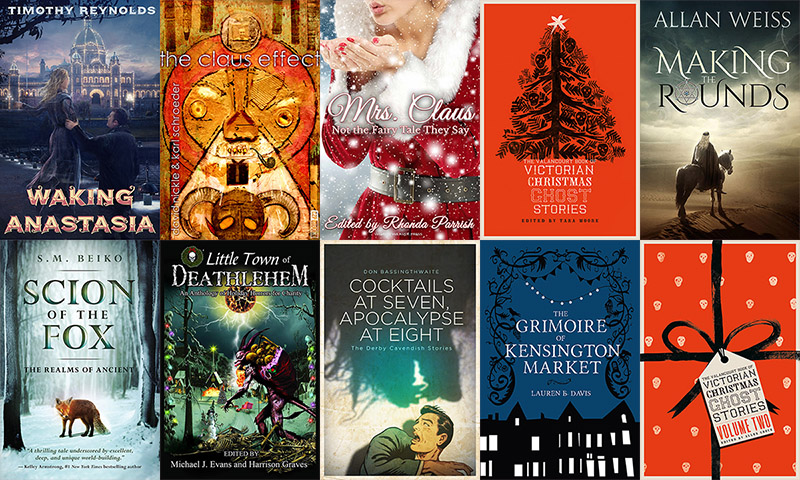 The Winter Weirderland Bundle - Curated by Sandra Kasturi
Happy holidays! For those of you who long to just hunker down with a good read, a nice fire, and perhaps a heavy cat—all the better to avoid the malls and milling—we have a lovely selection of winter and holiday stories for you!
Join bon vivant Derby Cavendish as he saves the world time and again from holiday horrors like zombifying fruitcakes and evil cheerleaders, in Cocktails at Seven, Apocalypse at Eight.
What could be more delightfully cozy than snuggling up with some Dickensian ghosts in the Valancourt Book of Victorian Christmas Ghost Stories? And you can do it twice with volumes 1 and 2!
It's Mrs. Claus's turn to shine and she is stepping out of Santa's shadow in Mrs. Claus: Not the Fairy Tale They Say. She's a hero, a villain, a spacefarer, a monster, and more!
Welcome to Deathlehem, where Krampus, not Santa, brings the holiday cheer, and family gatherings often turn deadly.
So enter . . . if you dare! A collection of 23 holiday horrors benefiting the Elizabeth Glaser Pediatric AIDS Foundation.
Fox spirits, snake monsters, and ancient powers abound in the winterscape of Scion of the Fox. It's American Gods meets Princess Mononoke!
In Waking Anastasia, a bloodstained book of poetry contains the soul of one of the royal Romanovs killed during the Bolshevik Revolution. Oh, those Russians!
Inspired by Hans Christian Andersen's "The Snow Queen," The Grimoire of Kensington Market is the story of Maggie, guardian of The Grimoire bookstore, which expands and contracts as stories are born... or die.
The Cold War meets Kris Kringle in The Claus Effect as our beleaguered heroes fight Claus and his machine-gun-toting elves!
Eliezer ben-Avraham, wizard, Kabbalist, and kvetch, can help—during Hanukkah, or any other time of year! Making the Rounds is humorous, philosophical, and very weird, as Eliezer demonstrate how important it is to be generous with your gifts, even to the craziest goyim.
Happy weird, wonderful, wintery reading! – Sandra Kasturi
For StoryBundle, you decide what price you want to pay. For $5 (or more, if you're feeling generous), you'll get the basic bundle of four books in any ebook format—WORLDWIDE.
Cocktails at Seven, Apocalypse at Eight by Don Bassingthwaite
Scion of the Fox by S.M. Beiko
Mrs. Claus - Not the Fairy Tale They Say by Rhonda Parrish
The Valancourt Book of Victorian Christmas Ghost Stories, Volume One by Tara Moore
If you pay at least the bonus price of just $15, you get all four of the regular books, plus SIX more!
Making the Rounds by Allan Weiss
The Claus Effect by David Nickle and Karl Schroeder
Waking Anastasia by Timothy Reynolds
O' Little Town of Deathlehem by Michael J. Evans and Harrison Graves
The Valancourt Book of Victorian Christmas Ghost Stories, Volume Two by Allen Grove
The Grimoire of Kensington Market by Lauren B. Davis
This bundle is available only for a limited time via http://www.storybundle.com. It allows easy reading on computers, smartphones, and tablets as well as Kindle and other ereaders via file transfer, email, and other methods. You get multiple DRM-free formats (.epub and .mobi) for all books!
It's also super easy to give the gift of reading with StoryBundle, thanks to our gift cards – which allow you to send someone a code that they can redeem for any future StoryBundle bundle – and timed delivery, which allows you to control exactly when your recipient will get the gift of StoryBundle.
Why StoryBundle? Here are just a few benefits StoryBundle provides.
Get quality reads: We've chosen works from excellent authors to bundle together in one convenient package.
Pay what you want (minimum $5): You decide how much these fantastic books are worth. If you can only spare a little, that's fine! You'll still get access to a batch of exceptional titles.
Support authors who support DRM-free books: StoryBundle is a platform for authors to get exposure for their works, both for the titles featured in the bundle and for the rest of their catalog. Supporting authors who let you read their books on any device you want—restriction free—will show everyone there's nothing wrong with ditching DRM.
Give to worthy causes: Bundle buyers have a chance to donate a portion of their proceeds to Girls Write Now and Mighty Writers!
Receive extra books: If you beat the bonus price, you'll get the bonus books!
StoryBundle was created to give a platform for independent authors to showcase their work, and a source of quality titles for thirsty readers. StoryBundle works with authors to create bundles of ebooks that can be purchased by readers at their desired price. Before starting StoryBundle, Founder Jason Chen covered technology and software as an editor for Gizmodo.com and Lifehacker.com.
For more information, visit our website at storybundle.com, tweet us at @storybundle and like us on Facebook. For press inquiries, please email press@storybundle.com.