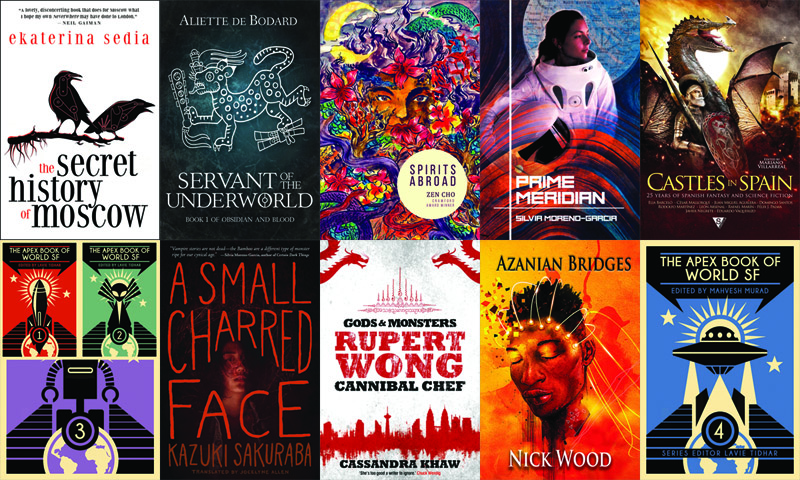 The World SF Bundle - Curated by Lavie Tidhar
Over ten years ago I came up with the crazy idea of an anthology collecting speculative fiction stories from around the world. The resultant collection – The Apex Book of World SF – came out in 2009 and has since spawned a series of books, with the fifth volume coming out later this year. Over the course of that decade I encountered some brilliant writers, and was able to watch what had once seemed impossible – overseas writers flourishing in the genre world – come to seem a matter of course.
While translation continues to pose a significant barrier, many new enthusiasts have contributed to surmounting the problem. In this bundle we have a comprehensive anthology of translated Spanish speculative fiction, Castles in Spain, as well as a wonderful novel from Japan, A Small Charred Face, made possible through the Haikasoru imprint dedicated to translated Japanese speculative fiction. In addition, we are offering all four of the current Apex Book of World SF anthologies, in which you may encounter many writers new to you, many of them translated from the original languages.
Yet another solution to the translation problem came with the emergence of new writers proficient in more than one language. Here, for instance, we have the wonderfully atmospheric Servant of the Underworld, the first novel by French author Aliette de Bodard, who writes in English. Russian author Ekaterina Sedia does the same, here with her debut novel The Secret History of Moscow, which is impossible not to devour. Malaysian Zen Cho's debut collection, Spirits Abroad, justly won the Crawford Award, while fellow Malaysian Cassandra Khaw's Rupert Wong: Cannibal Chef is a delightful, bloodied romp through a magical Kuala Lumpur.
I was lucky enough to write the original introduction to Mexican author Silvia Moreno-Garcia's masterful Prime Meridian, a thought-provoking work of science fiction set in Mexico City, already garnering much attention. And I got to originally blurb South African author Nick Wood's Azanian Bridges, an intriguing take on alternate history and Apartheid.
Our chosen charity for this bundle, English PEN, works tirelessly to promote translated works into English, championing literature beyond national and linguistic borders. They provide funding for translation projects, are the founding centre of a worldwide writers' association with 145 centres in more than 100 countries, and are also a founding member of the Free Word Centre. They campaign to defend writers and readers in the UK and around the world whose human right to freedom of expression is at risk. I couldn't think of a better partner for this bundle, and hope you help us support them and their work.
"World SF" as a term has been somewhat nebulous, encompassing a huge range of voices and approaches to the fantastic. Here is what I hope is but the first sampler of some of today's exciting writers working in the field. I hope you enjoy them as much as I did. – Lavie Tidhar
The initial titles in the World SF Bundle (minimum $5 to purchase) are:
The Secret History of Moscow by Ekaterina Sedia
Servant of the Underworld by Aliette de Bodard
The Apex Book of World SF: Vol. 4 edited by Mahvesh Murad
A Small Charred Face by Kazuki Sakuraba
If you pay at least the bonus price of just $15, you get all four of the regular titles, plus SIX more!
The Apex Book of World SF: Vol. 1-3 edited by Lavie Tidhar
Spirits Abroad by Zen Cho
Prime Meridian by Silvia Moreno-Garcia
Rupert Wong, Cannibal Chef by Cassandra Khaw
Castles in Spain edited by Mariano Villarreal
Azanian Bridges by Nick Wood
This bundle is available only for a limited time via http://www.storybundle.com. It allows easy reading on computers, smartphones, and tablets as well as Kindle and other ereaders via file transfer, email, and other methods. You get multiple DRM-free formats (.epub and .mobi) for all books!
It's also super easy to give the gift of reading with StoryBundle, thanks to our gift cards – which allow you to send someone a code that they can redeem for any future StoryBundle bundle – and timed delivery, which allows you to control exactly when your recipient will get the gift of StoryBundle.
Why StoryBundle? Here are just a few benefits StoryBundle provides.
Get quality reads: We've chosen works from excellent authors to bundle together in one convenient package.
Pay what you want (minimum $5): You decide how much these fantastic books are worth. If you can only spare a little, that's fine! You'll still get access to a batch of exceptional titles.
Support authors who support DRM-free books: StoryBundle is a platform for authors to get exposure for their works, both for the titles featured in the bundle and for the rest of their catalog. Supporting authors who let you read their books on any device you want—restriction free—will show everyone there's nothing wrong with ditching DRM.
Give to worthy causes: Bundle buyers have a chance to donate a portion of their proceeds to English PEN!
Receive extra books: If you beat the bonus price, you'll get the bonus books!
StoryBundle was created to give a platform for independent authors to showcase their work, and a source of quality titles for thirsty readers. StoryBundle works with authors to create bundles of ebooks that can be purchased by readers at their desired price. Before starting StoryBundle, Founder Jason Chen covered technology and software as an editor for Gizmodo.com and Lifehacker.com.
For more information, visit our website at storybundle.com, tweet us at @storybundle and like us on Facebook. For press inquiries, please email press@storybundle.com.