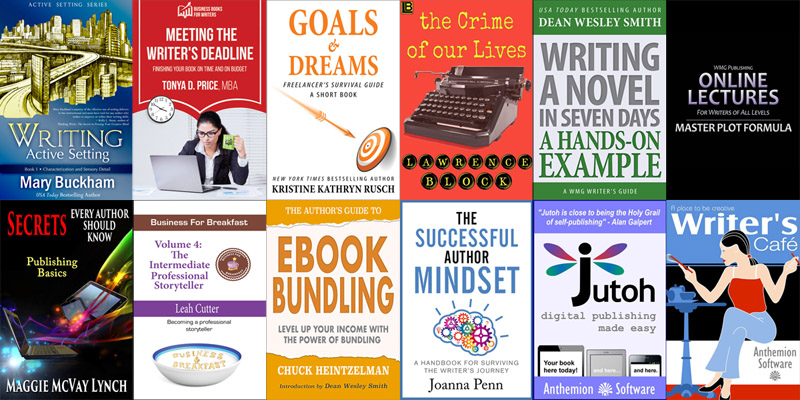 The Write Stuff Bundle 2017 - Curated by Kristine Kathryn Rusch
After a long day at work, consumers want one of two things: they want entertainment or they want escape.
Entertaining fiction provides a great escape, as simple as picking up a book and starting on page one. Writing a book should be as easy as reading one. Right?
Right?
Sounds so simple. But writing entertaining fiction isn't simple. It's like juggling while doing a one-handed handstand while balancing a box of three angry cats on your left foot.
Writers need to know everything from craft to business to the nuances of genre. And the learning never stops. To keep growing, to continue entertaining, writers must constantly keep up with the latest techniques, the most current trends, and the best way to handle the ever-changing business.
Enter The Write Stuff Bundle 2017. I put it together with writers of all levels in mind.
First, we get you in the right frame of mind. The inspirational Joanna Penn points the way with The Successful Author Mindset: A Handbook For Surviving The Writer's Journey. We also offer some genre help, so you know which road you're taking that journey on. Mystery Grand Master Lawrence Block maps out the way that mystery writers sustain a long-term career in The Crime of Our Lives. Finally, my Freelancer's Survival Guide Short Book: Goals And Dreams helps you figure out how to turn your dreams into achievable goals.
Then, we focus on craft, with the help of Mary Buckham's Writing Active Setting, Leah Cutter's The Intermediate Professional Storyteller, Dean Wesley Smith's Writing a Novel in Seven Days, and a lecture from WMG Publishing called The Master Plot Formula.
Next, we concentrate on getting your precious work to market. Maggie McVay Lynch shares tips on publishing with Publishing Basics: Secrets Every Author Should Know. Publishing means hitting deadlines, and Tonya D. Price shares her secrets for Meeting The Writer's Deadline. If you meet your deadlines and follow Maggie's tips, you'll probably want to use the 40% off coupon we provide for Jutoh, the indispensible ebook publishing tool.
Finally, part of publishing includes working with other writers in (ahem) ebook bundles, and the owner of the BundleRabbit bundling website Chuck Heinzelman shares his knowledge in The Author's Guide To Ebook Bundling.
As excited as I am about this year's Write Stuff bundle, I'm most excited about the charity we've attached to the bundle.
Remember what I said about entertainment and escape? Our charity, AbleGamers, helps people with disabilities enjoy the imaginary worlds of video games. The organization provides one-on-one assistance to help people with a variety of disabilities join the lively interactive world of gaming, easing the social isolation that being disabled can bring.
So here's what you can do: buy the bundle for yourself or your writing friends, then toss in a few bucks for AbleGamers. You'll be giving entertainment and escape while learning how to create entertainment and escape.
And you'll be saving tons of money in the process. The WMG Publishing lecture alone has a $50 value. You'll get that lecture, and nine books, and the Jutoh coupon for as little as $15.
Deals like this don't come around very often. And this one won't last long. So pick up this bundle today, and throw some of that money you saved toward AbleGamers. You'll make someone's life a little brighter, and improve your writing at the same time. – Kristine Kathryn Rusch
The initial titles in the Write Stuff Bundle 2017 (minimum $5 to purchase) are:
The Crime of Our Lives by Lawrence Block
Goals & Dreams: Freelancer's Survival Guide by Kristine Kathryn Rusch
Writing Active Setting by Mary Buckham
Meeting the Writer's Deadline by Tonya D. Price, MBA
If you pay more than the bonus price of just $15, you get all four of the regular titles, plus five more!
Secrets Every Author Should Know by Maggie Lynch
Business For Breakfast - Vol. 4 - The Intermediate Professional Storyteller by Leah Cutter
The Successful Author Mindset by Joanna Penn
Writing a Novel in Seven Days by Dean Wesley Smith
Ebook Bundling by Chuck Heintzelman
And that's not all! With the bonus, you get three more goodies:
WMG Publishing Presents: Master Plot Formula Lecture by Dean Wesley Smith (a $50 value!)
50% off Jutoh!, an easy to use ebook creation suite
80% off Writer's Cafe!, a powerful set of writer's tools to accelerate your novel or screenplay process
This bundle is available only for a limited time via http://www.storybundle.com. It allows easy reading on computers, smartphones, and tablets as well as Kindle and other ereaders via file transfer, email, and other methods. You get multiple DRM-free formats (.epub and .mobi) for all books!
It's also super easy to give the gift of reading with StoryBundle, thanks to our gift cards – which allow you to send someone a code that they can redeem for any future StoryBundle bundle – and timed delivery, which allows you to control exactly when your recipient will get the gift of StoryBundle.
Why StoryBundle? Here are just a few benefits StoryBundle provides.
Get quality reads: We've chosen works from excellent authors to bundle together in one convenient package.
Pay what you want (minimum $5): You decide how much these fantastic books are worth. If you can only spare a little, that's fine! You'll still get access to a batch of exceptional titles.
Support authors who support DRM-free books: StoryBundle is a platform for authors to get exposure for their works, both for the titles featured in the bundle and for the rest of their catalog. Supporting authors who let you read their books on any device you want—restriction free—will show everyone there's nothing wrong with ditching DRM.
Give to worthy causes: Bundle buyers have a chance to donate a portion of their proceeds to AbleGamers!
Receive extra books: If you beat the bonus price, you'll get the bonus books!
StoryBundle was created to give a platform for independent authors to showcase their work, and a source of quality titles for thirsty readers. StoryBundle works with authors to create bundles of ebooks that can be purchased by readers at their desired price. Before starting StoryBundle, Founder Jason Chen covered technology and software as an editor for Gizmodo.com and Lifehacker.com.
For more information, visit our website at storybundle.com, tweet us at @storybundle and like us on Facebook. For press inquiries, please email press@storybundle.com.