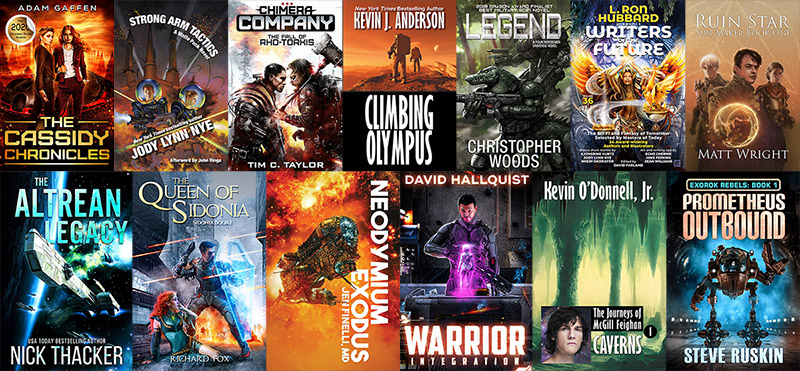 The 2021 Adventure SF Bundle - Curated by bestselling author Kevin J. Anderson
Everybody loves Adventure science fiction. Take your e-reader to other worlds or distant galaxies, clash with alien races, explore strange environments. I've curated a bundle of terrific Adventure SF epics, thirteen books for as little as $20, and a portion of the proceeds goes to the Challenger Learning Centers for Space Science Education.
This bundle includes a brand new edition of my gritty Mars novel Climbing Olympus, as well as the first volume in Kevin O'Donnell, Jr. classic "Journeys of McGill Feighan" series, Caverns, a novel in the epic Four Horsemen series, Jen Finelli's gigantic new space opera, Neodymium Exodus, and many more.
Here's the whole list—
The Fall of Rho-Torkis, by Tim C. Taylor: When your worst enemy has your back…you know the mission is doomed from the start.
Strong Arm Tactics, by Jody Lynn Nye: The Cockroaches get sent on what ought to be a simple courier mission to the greatest amusement park in the Galaxy, and end up defending the population from a ruthless enemy in the only way the Cockroaches know how: unconventionally!
Legend, by Christopher Woods: In the era of the original Four Horsemen, there comes a Legend. A novel in the highly popular Four Horsemen universe.
Warrior: Integration, by David Hallquist. Back from the dead, a man infused with an alien monster fights alone against a sinister interplanetary conspiracy on Luna.
Neodymium Exodus, by Jen Finelli, MD: A blend of hard biomedical science fiction with multicultural fantasy, Neodymium Exodus combines the introspection of classics like Perelandra with the vibrant boldness of modern best-sellers like This Alien Shore and Space Opera.
Caverns, by Kevin O'Donnell, Jr.: First book in the rollicking, galaxy-spanning SF adventure series, the Journeys of McGill Feighan, that will make your imagination spin!
Climbing Olympus, by Kevin J. Anderson: They sacrificed their humanity to become the first Martians. And they will not stand by as human colonists come to take their home.
Ruin Star, by Matt Wright: 600 years ago, their planet was nearly destroyed in the Ruin. Now the remaining survivors risk desolation as they plot against Vidikas the Ruin Star.
The Queen of Sidonia, by Richard Fox: Princess Cosima will be queen, if she survives to her eighteenth birthday.
Prometheus Outbound, by Steve Ruskin: Noemi never wanted to be a rebel leader… but like any spacer, she rarely gets what she wants.
The Altrean Legacy, by Nick Thacker: The Altrean Origins Project exists to bring strange and dangerous alien life forms back to their home world for study and examination. When a malfunction leaves their crew locked inside the alien arcology, they must figure out a way to get out. And not all the species inside the arcology are friendly...
The Cassidy Chronicles, by Adam Gaffen: Most weddings don't end with an assassination attempt; then again, Aiyana and Kendra have never played by the rules before. Why start now?
Writers of the Future 36: Get to know tomorrow's brightest science fiction and fantasy talents chosen by some of today's bestselling authors and celebrated artists, including Kevin J. Anderson, Orson Scott Card, Larry Elmore, Brandon Sanderson, Dan dos Santos, and Robert J. Sawyer.
With StoryBundle, you receive ebook editions of these great SF adventures. Name your price, whatever you feel the bundle is worth. For a minimum of $5 you receive the base four books, or for as little as $20, receive all thirteen novels. A portion of the proceeds goes to support the Challenger Learning Centers for Space Science Education, and the remainder helps indie authors.
Strap yourself in, fire up the stardrive, and start reading. – Kevin J. Anderson
* * *
For StoryBundle, you decide what price you want to pay. For $5 (or more, if you're feeling generous), you'll get the basic bundle of four books in any ebook format—WORLDWIDE.
Strong Arm Tactics by Jody Lynn Nye
Climbing Olympus by Kevin J. Anderson
The Fall of Rho-Torkis by Tim C. Taylor
The Cassidy Chronicles by Adam Gaffen
If you pay at least the bonus price of just $20, you get all four of the regular books, plus NINE more books, for a total of 13!
Prometheus Outbound by Steve Ruskin
Caverns - The Journeys of McGill Feighan by Kevin O'Donnell, Jr.
Neodymium Exodus by Jen Finelli, MD
Writers of the Future Volume 36 edited by David Farland
Queen of Sidonia by Richard Fox
The Altrean Legacy by Nick Thacker
Ruin Star by Matt Wright
Warrior Integration by David Hallquist
Legend by Christopher Woods
This bundle is available only for a limited time via http://www.storybundle.com. It allows easy reading on computers, smartphones, and tablets as well as Kindle and other ereaders via file transfer, email, and other methods. You get multiple DRM-free formats (.epub, .mobi) for all books!
It's also super easy to give the gift of reading with StoryBundle, thanks to our gift cards – which allow you to send someone a code that they can redeem for any future StoryBundle bundle – and timed delivery, which allows you to control exactly when your recipient will get the gift of StoryBundle.
Why StoryBundle? Here are just a few benefits StoryBundle provides.
Get quality reads: We've chosen works from excellent authors to bundle together in one convenient package.
Pay what you want (minimum $5): You decide how much these fantastic books are worth. If you can only spare a little, that's fine! You'll still get access to a batch of exceptional titles.
Support authors who support DRM-free books: StoryBundle is a platform for authors to get exposure for their works, both for the titles featured in the bundle and for the rest of their catalog. Supporting authors who let you read their books on any device you want—restriction free—will show everyone there's nothing wrong with ditching DRM.
Give to worthy causes: Bundle buyers have a chance to donate a portion of their proceeds to the Challenger Learning Centers for Space Education!
Receive extra books: If you beat the bonus price, you'll get the bonus books!
StoryBundle was created to give a platform for independent authors to showcase their work, and a source of quality titles for thirsty readers. StoryBundle works with authors to create bundles of ebooks that can be purchased by readers at their desired price. Before starting StoryBundle, Founder Jason Chen covered technology and software as an editor for Gizmodo.com and Lifehacker.com.
For more information, visit our website at storybundle.com, tweet us at @storybundle and like us on Facebook. For press inquiries, please email press@storybundle.com.