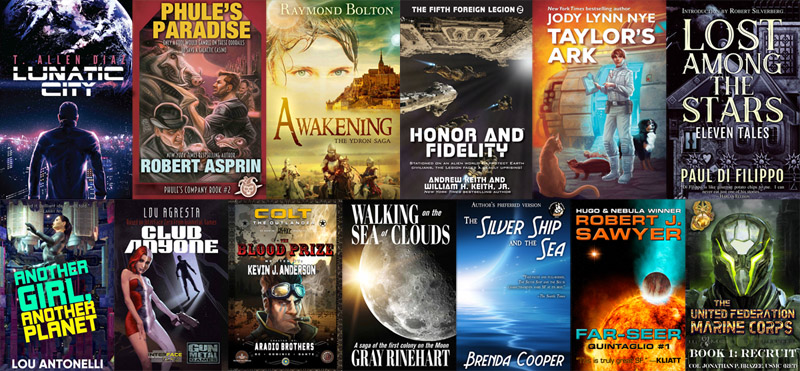 The Adventure Sci-Fi 2017 Bundle - Curated by Kevin J. Anderson
We're Full of Stars! ADVENTURE SF STORYBUNDLE
Strap into your cockpit, fire up the faster-than-light engines, and set course for the nearest star. I've got a grab bag of 13 excellent science fiction books all in one new Adventure SF StoryBundle. Get them all for as little as $15, and help out a great charity, too!
I put in a brand new action-packed story, The Blood Prize, featuring the popular character Colt the Outlander from Heavy Metal magazines, with all new art by the Aradio Brothers. Robert J. Sawyer offers his classic novel Far Seer (a planet of intelligent dinosaurs!). Raymond Bolton's Awakening shows a fantasy civilization on the cusp of the industrial revolution faced with an alien invasion. You'll read different adventures on very different lunar colonies in Gray Rinehart's Walking on a Sea of Clouds, Lou Agresta's Club Anyone, and T. Allen Diaz's Lunatic City, as well as Louis Antonelli's alternate space race and murder on the moon in Dragon-Award nominee Another Girl, Another Planet. Jody Lynn Nye's Taylor's Ark follows the adventures of a veterinarian to the stars, and Brenda Cooper's Endeavor-Award winning The Silver Ship and the Sea is a gripping story of prisoners of war abandoned on a rugged colony planet. Acclaimed, award-winning author Paul di Filippo gives a collection of his best stories in Lost Among the Stars.
And for thrilling military SF, the bundle also has Honor and Fidelity by Andrew Keith and William H. Keith, Recruit by Jonathan P. Brazee, and the hilarious adventures of Phule's Company in Robert Lynn Asprin's Phule's Paradise.
The Adventure SF StoryBundle runs for only three weeks. You can get the base level of five books for $5, or all 13 for as little as $15. Pay what you like, and a portion goes to support the great efforts of the Challenger Learning Centers for Space Science Education. – Kevin J. Anderson
The initial titles in the The Adventure Sci-Fi 2017 Bundle (minimum $5 to purchase) are:
Lunatic City by T. Allen Diaz
Phule's Paradise by Robert Asprin
Awakening by Raymond Bolton
Taylor's Ark by Jody Lynn Nye
Honor and Fidelity by Andrew Keith and William H. Keith, Jr.
If you pay more than the bonus price of just $15, you get all five of the regular titles, plus EIGHT more!
Lost Among the Stars by Paul Di Filippo
Another Girl, Another Planet by Louis Antonelli
Club Anyone by Lou Agresta
The Blood Prize by Kevin J. Anderson
Walking on the Sea of Clouds by Gray Rinehart
The Silver Ship and the Sea by Brenda Cooper
Far-Seer by Robert J. Sawyer
The United Federation Marine Corps Book 1: Recruit by Jonathan P. Brazee
This bundle is available only for a limited time via http://www.storybundle.com. It allows easy reading on computers, smartphones, and tablets as well as Kindle and other ereaders via file transfer, email, and other methods. You get multiple DRM-free formats (.epub and .mobi) for all books!
It's also super easy to give the gift of reading with StoryBundle, thanks to our gift cards – which allow you to send someone a code that they can redeem for any future StoryBundle bundle – and timed delivery, which allows you to control exactly when your recipient will get the gift of StoryBundle.
Why StoryBundle? Here are just a few benefits StoryBundle provides.
Get quality reads: We've chosen works from excellent authors to bundle together in one convenient package.
Pay what you want (minimum $5): You decide how much these fantastic books are worth. If you can only spare a little, that's fine! You'll still get access to a batch of exceptional titles.
Support authors who support DRM-free books: StoryBundle is a platform for authors to get exposure for their works, both for the titles featured in the bundle and for the rest of their catalog. Supporting authors who let you read their books on any device you want—restriction free—will show everyone there's nothing wrong with ditching DRM.
Give to worthy causes: Bundle buyers have a chance to donate a portion of their proceeds to the Challenger Learning Centers for Space Science Education!
Receive extra books: If you beat the bonus price, you'll get the bonus books!
StoryBundle was created to give a platform for independent authors to showcase their work, and a source of quality titles for thirsty readers. StoryBundle works with authors to create bundles of ebooks that can be purchased by readers at their desired price. Before starting StoryBundle, Founder Jason Chen covered technology and software as an editor for Gizmodo.com and Lifehacker.com.
For more information, visit our website at storybundle.com, tweet us at @storybundle and like us on Facebook. For press inquiries, please email press@storybundle.com.