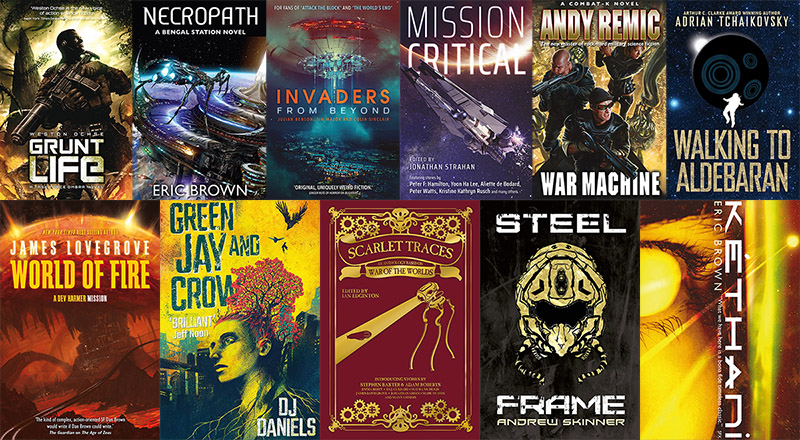 When someone says "Alien", we tend to have a very green mental image. But "alien" doesn't have to mean the little bug-eyed men in flying saucers; it isn't always the enemy in a monster suit, trying to destroy the White House. Sometimes it's an incomprehensible viewpoint, or trying to survive in a radically different place. Sometimes it's simply trying to find a single point of contact between civilisations that are, quite literally, worlds apart. And sometimes it's realising the humanity in others – and ourselves.
Of course, sometimes it is that the slime things from Planet Zorg have attacked again and the world needs to be saved, again. Whoops, there goes New York!
And that's the fun of it.
In this bundle, we wanted to explore the breadth of alien contact – from the dangerous enemies in Wes Ochse's Grunt Life and Andy Remic's War Machine to the puzzling, confusing beings of Green Jay & Crow and Kethani. It's not all kicking green butt, either: Adrian Tchaikovsky presents a wonderful, funny alien horror in Walking to Aldebaran, and Jonathan Strahan collects some of the best writers around in Mission Critical, looking at what could happen to anyone out there in the deep cold of space – human and alien alike. Andrew Skinner's Steel Frame gives us an enemy that is as incomprehensible as it is deadly; and Scarlet Traces lands us back on Earth alongside the Martians of HG Wells
Alien Action – in all of its varied, strange ways. Now: go save that world. – Rebellion Publishing
* * *
For StoryBundle, you decide what price you want to pay. For $5 (or more, if you're feeling generous), you'll get the basic bundle of four books in any ebook format—WORLDWIDE.
Grunt Life by Weston Ochse
Invaders from Beyond by Colin Sinclair, Tim Major & Julian Benson
Mission Critical by Jonathan Strahan
Necropath by Eric Brown
If you pay at least the bonus price of just $15, you get all four of the regular books, plus SEVEN more books, for a total of eleven!
War Machine by Andy Remic
World of Fire by James Lovegrove
Walking to Aldebaran by Adrian Tchaikovsky
Steel Frame by Andrew Skinner
Scarlet Traces by Ian Edginton
Kethani by Eric Brown
Green Jay and Crow by DJ Daniels
This bundle is available only for a limited time via http://www.storybundle.com. It allows easy reading on computers, smartphones, and tablets as well as Kindle and other ereaders via file transfer, email, and other methods. You get multiple DRM-free formats (.epub, .mobi) for all books!
It's also super easy to give the gift of reading with StoryBundle, thanks to our gift cards – which allow you to send someone a code that they can redeem for any future StoryBundle bundle – and timed delivery, which allows you to control exactly when your recipient will get the gift of StoryBundle.
Why StoryBundle? Here are just a few benefits StoryBundle provides.
Get quality reads: We've chosen works from excellent authors to bundle together in one convenient package.
Pay what you want (minimum $5): You decide how much these fantastic books are worth. If you can only spare a little, that's fine! You'll still get access to a batch of exceptional titles.
Support authors who support DRM-free books: StoryBundle is a platform for authors to get exposure for their works, both for the titles featured in the bundle and for the rest of their catalog. Supporting authors who let you read their books on any device you want—restriction free—will show everyone there's nothing wrong with ditching DRM.
Give to worthy causes: Bundle buyers have a chance to donate a portion of their proceeds to Mighty Writers and Girls Write Now!
Receive extra books: If you beat the bonus price, you'll get the bonus books!
StoryBundle was created to give a platform for independent authors to showcase their work, and a source of quality titles for thirsty readers. StoryBundle works with authors to create bundles of ebooks that can be purchased by readers at their desired price. Before starting StoryBundle, Founder Jason Chen covered technology and software as an editor for Gizmodo.com and Lifehacker.com.
For more information, visit our website at storybundle.com, tweet us at @storybundle and like us on Facebook. For press inquiries, please email press@storybundle.com.