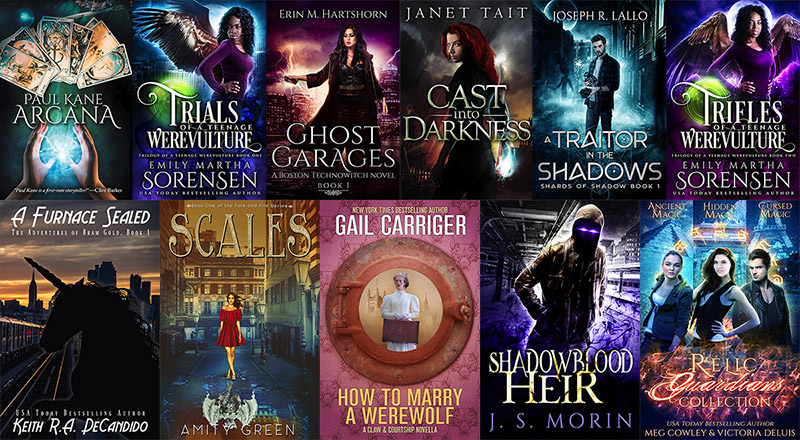 The Cities of Magic Bundle - Curated by Joseph R. Lallo
Let's talk about Urban Fantasy, shall we? If you're like me, it probably took you many years of reading before you encountered a book specifically labeled "Urban Fantasy." On the surface, the genre seems self-explanatory. We know what fantasy stories are, and we're all familiar with urban settings, so these are simply fantasy stories in urban settings. One might even be excused for believing that such a label would lead to a fairly limited variety of stories that fit the bill.
Well, if you think that, this bundle is going to be a real eye-opener.
Urban Fantasy is a set of flavors and textures that form a foundation from which thrilling tales of every sort can spring. How to Marry a Werewolf will introduce you to the finer points of supernatural courtship in an alternate Victorian London. Interested in some action? We've got Relic Guardians and Cast into Darkness to feed your need for danger and excitement. If you're in the mood for a mystery, crack open A Furnace Sealed and see how murders are investigated when magic is the modus operandi. If you'd like to see the super heroic side of Urban Fantasy, Scales will teach you what sort of mischief a gargoyle can get up to, and never underestimate the Trials (and Trifles) of a Werevulture. Shadowblood Heir will make you wonder just how much of fiction is really fictional, while Arcana will make you question what depths a society will sink to if it feels threatened by mystic powers. Perhaps you'll find yourself in the city of brotherly love, peering into a darkness that just so happens to be peering back at you in A Traitor in the Shadows, or exploring Boston with a technowitch in Ghost Garages.
StoryBundle has been kind enough to ask me back many times to perform the near-impossible task of selecting just a handful of titles from the endless library of quality stories within the genre du jour. Despite having titles from newcomers like me all the way to New York Times Bestsellers like Gail Carriger, this latest bundle still represents a tiny, tantalizing sample of the Urban Fantasy world. If you're new to the genre, name your price and take your first walk on the wild side! If you're already a fan, grab this heap of additions to your to-be-read pile before time runs out! – Joseph R. Lallo
For StoryBundle, you decide what price you want to pay. For $5 (or more, if you're feeling generous), you'll get the basic bundle of four books in any ebook format—WORLDWIDE.
Teenage Werevulture Book 1: Trials of a Teenage Werevulture by Emily Martha Sorensen
Ghost Garages - A Boston Technowitch Novel: Book 1 by Erin M. Hartshorn
Cast into Darkness by Janet Tait
Arcana by Paul Kane
If you pay at least the bonus price of just $15, you get all four of the regular books, plus SEVEN more!
Teenager Werevulture Book 2: Trifles of a Teenage Werevulture by Emily Martha Sorensen
A Traitor in the Shadows by Joseph R. Lallo
How to Marry a Werewolf by Gail Carriger
Shadowblood Heir by J.S. Morin
A Furnace Sealed by Keith R.A. DeCandido
Scales by Amity Green
Relic Guardians Collection (Books 1-3) by Meg Cowley and Victoria DeLuis
This bundle is available only for a limited time via http://www.storybundle.com. It allows easy reading on computers, smartphones, and tablets as well as Kindle and other ereaders via file transfer, email, and other methods. You get multiple DRM-free formats (.epub and .mobi) for all books!
It's also super easy to give the gift of reading with StoryBundle, thanks to our gift cards – which allow you to send someone a code that they can redeem for any future StoryBundle bundle – and timed delivery, which allows you to control exactly when your recipient will get the gift of StoryBundle.
Why StoryBundle? Here are just a few benefits StoryBundle provides.
Get quality reads: We've chosen works from excellent authors to bundle together in one convenient package.
Pay what you want (minimum $5): You decide how much these fantastic books are worth. If you can only spare a little, that's fine! You'll still get access to a batch of exceptional titles.
Support authors who support DRM-free books: StoryBundle is a platform for authors to get exposure for their works, both for the titles featured in the bundle and for the rest of their catalog. Supporting authors who let you read their books on any device you want—restriction free—will show everyone there's nothing wrong with ditching DRM.
Give to worthy causes: Bundle buyers have a chance to donate a portion of their proceeds to Mighty Writers and Girls Write Now!
Receive extra books: If you beat the bonus price, you'll get the bonus books!
StoryBundle was created to give a platform for independent authors to showcase their work, and a source of quality titles for thirsty readers. StoryBundle works with authors to create bundles of ebooks that can be purchased by readers at their desired price. Before starting StoryBundle, Founder Jason Chen covered technology and software as an editor for Gizmodo.com and Lifehacker.com.
For more information, visit our website at storybundle.com, tweet us at @storybundle and like us on Facebook. For press inquiries, please email press@storybundle.com.