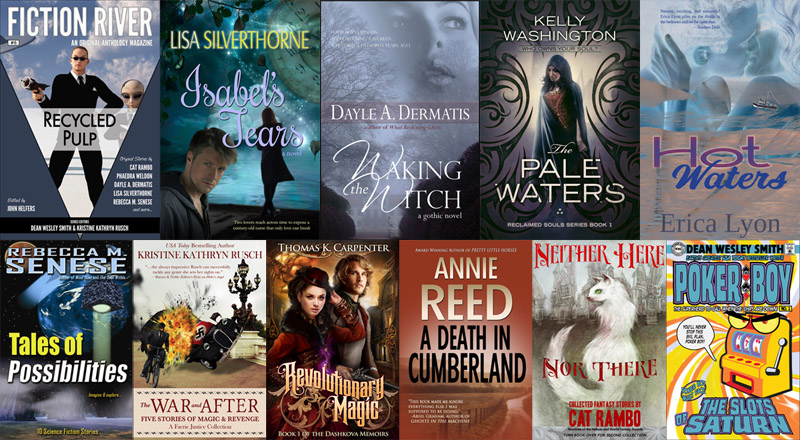 The Escapist Bundle - Curated by Allyson Longueira, WMG Publishing
Ever feel like you need to escape from reality for a while? A day, a week, four years—whatever it takes. It seems like many of us feel that way right now, so what better time for some escapist fiction?
Hence, this new Escapist Bundle for StoryBundle, an entertaining vacation of the written word and a bit of a new format for StoryBundle.
You see, the eleven fantastic books in this bundle come from authors tied together by, among other accolades, their inclusion in a single volume of Fiction River, in this case a volume called Recycled Pulp. For those of you unfamiliar with Fiction River, it's an original anthology series that Adventures Fantastic calls "one of the best and most exciting publications in the field today."
With 22 volumes published so far, Recycled Pulp proves one of the most creative volumes. Inspired by the fantastic, escapist pulp fiction of the last century, the amazing authors in this volume were tasked with creating modern escapist fiction from nothing but a pulp-inspired title. The results were fantastic, indeed.
Ten of those authors have provided books for the bundle. Like the diverse genre mix of stories Fiction River is famous for, this bundle also features a diverse genre mix of books. But they all have one very important thing in common—they are the perfect escape from everyday life.
Included in the bundle is, of course, Fiction River: Recycled Pulp, edited by John Helfers. We also have: Lisa Silverthorne's Isabel's Tears, a novel about a magical inn; Dayle A. Dermatis' Waking the Witch, a gothic mystery novel with some paranormal elements and a light romance; Kelly Washington's The Pale Waters, the first novella in a four-part epic journey; Erica Lyon's Hot Waters, a steamy sea adventure novel; and New York Times bestselling author Kristine Kathryn Rusch's The War and After, five historical fantasy stories of magic and revenge.
As a bonus, we have Rebecca Senese's ten-story science fiction collection Tales of Possibilities; Thomas K. Carpenter's Revolutionary Magic, a historical fantasy and the first in the Dashkova Memoirs; Annie Reed's A Death in Cumberland, a moody police procedural; Nebula Award finalist Cat Rambo's Neither Here Nor There, a double collection of alt-world and real world fantasy stories; and last but not least, USA Today bestselling author Dean Wesley Smith's The Slots of Saturn, the origin story for his fan-favorite superhero Poker Boy.
As always, at StoryBundle, you name your own price—whatever you feel the books are worth, and a portion of the proceeds goes to charity—in this case, SMART (Start Making a Reader Today). For $5 (or more, if you feel generous), you'll get the basic bundle of six books in any eBook format—WORLDWIDE. If you pay $14 (or more, if you feel generous), you'll get the five bonus books as well.
The Escapist Bundle runs for three weeks only. This is cheaper than any vacation, and best of all, you get to enjoy it from wherever you are. Now, that's a true escape. – Allyson Longueira
The initial titles in the Escapist Bundle (minimum $5 to purchase) are:
Waking the Witch by Dayle A. Dermatis
Hot Waters by Erica Lyon
Recycled Pulp by Fiction River
The Pale Waters by Kelly Washington
Isabel's Tears by Lisa Silverthorne
If you pay more than the bonus price of just $15, you get all five of the regular titles, plus SIX more!
A Death in Cumberland by Annie Reed
Neither Here Nor There by Cat Rambo
The Slots of Saturn by Dean Wesley Smith
The War and After by Kristine Kathryn Rusch
Revolutionary Magic by Thomas K. Carpenter
Tales of Possibilities by Rebecca M. Senese
This bundle is available only for a limited time via http://www.storybundle.com. It allows easy reading on computers, smartphones, and tablets as well as Kindle and other ereaders via file transfer, email, and other methods. You get multiple DRM-free formats (.epub and .mobi) for all books!
It's also super easy to give the gift of reading with StoryBundle, thanks to our gift cards – which allow you to send someone a code that they can redeem for any future StoryBundle bundle – and timed delivery, which allows you to control exactly when your recipient will get the gift of StoryBundle.
Why StoryBundle? Here are just a few benefits StoryBundle provides.
Get quality reads: We've chosen works from excellent authors to bundle together in one convenient package.
Pay what you want (minimum $5): You decide how much these fantastic books are worth. If you can only spare a little, that's fine! You'll still get access to a batch of exceptional titles.
Support authors who support DRM-free books: StoryBundle is a platform for authors to get exposure for their works, both for the titles featured in the bundle and for the rest of their catalog. Supporting authors who let you read their books on any device you want—restriction free—will show everyone there's nothing wrong with ditching DRM.
Give to worthy causes: Bundle buyers have a chance to donate a portion of their proceeds to SMART, a group that provides early reading support, access to books and community engagement to positively impact literacy outcomes and provide equitable opportunity for all kids!
Receive extra books: If you beat the bonus price, you'll get the bonus books!
StoryBundle was created to give a platform for independent authors to showcase their work, and a source of quality titles for thirsty readers. StoryBundle works with authors to create bundles of ebooks` that can be purchased by readers at their desired price. Before starting StoryBundle, Founder Jason Chen covered technology and software as an editor for Gizmodo.com and Lifehacker.com.
For more information, visit our website at storybundle.com, tweet us at @storybundle and like us on Facebook. For press inquiries, please email press@storybundle.com.