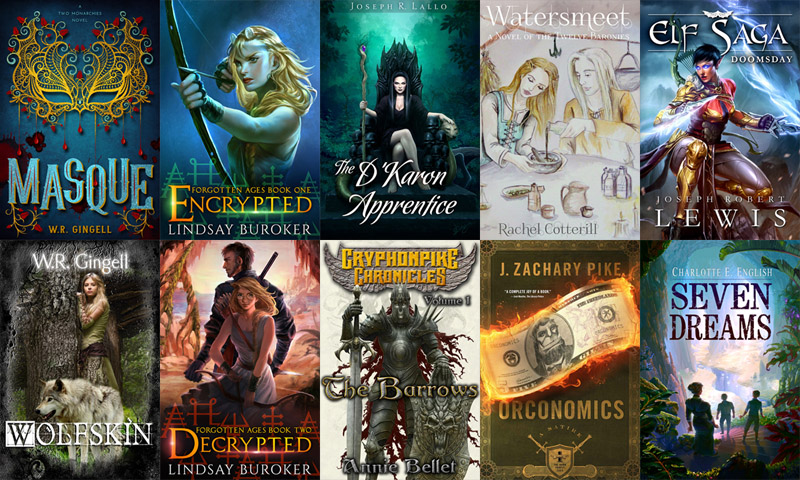 The Leading Ladies Fantasy Bundle - Curated by Charlotte E. English
You know how it goes. There's one female character in the book, and she's someone's love interest. She's given little to do and less to wear. She has no good lines, and nothing to contribute save her helplessness.
These are not those stories.
This year, I wanted to champion the kind of great, riveting fantasy which doesn't sideline the ladies. Happily, indie fantasy has absolutely masses to offer. I've assembled some of my favourite books by some of my favourite authors, every one of which offers somebody memorable, vivid and real to spend time with.
In these tales of derring-do, the ladies have stepped firmly out of the background. Not every story is female-led, though many are. In some of these books, they're taking centre stage and rocking it. In others, it's a supporting cast of women that shines.
I have for you an aristocratic amateur sleuth and a wayward forest witch from W. R. Gingell; a top mathematician and codebreaker from Lindsay Buroker; and from Joseph Robert Lewis and J. Zachary Pike, elf ladies as we've never seen them before. There's a cursed princess from Annie Bellet, a brilliant scholarly mage from Rachel Cotterill, and a cast of wizards, necromancers and dragons from Joseph Lallo. And from me, there's a predominantly female team of wily masqueraders with a grand mystery to solve.
These books cover a range of fantasy sub-genres, from comic to epic to romantic to adventure fantasy. They'll take you to diverse fantasy worlds, and show you how spectacular leading ladies can be. – Charlotte E. English
The initial titles in the Leading Ladies Fantasy Bundle (minimum $5 to purchase) are:
Elf Saga - Doomsday (Omnibus Edition) by Joseph Robert Lewis
The D'Karon Apprentice by Joseph R. Lallo
Watersmeet by Rachel Cotterill
Masque by W.R. Gingell
Encrypted - Forgotten Ages Book 1 by Lindsay Buroker
If you pay more than the bonus price of just $15, you get all five of the regular titles, plus five more!
Orconomics by J. Zachary Pike
Seven Dreams by Charlotte E. English
Gryphonpike Chronicles Volume 1: The Barrows by Annie Bellet
Wolfskin by W.R. Gingell
Decrypted - Forgotten Ages Book 2 by Lindsay Buroker
And as a special bonus for our newsletter subscribers, we're giving away a free copy of Jo Lallo's The Book of Deacon Anthology, which includes the entire Book of Deacon trilogy as well as Jade, a short novel set after the events of The Book of Deacon, The Rise of the Red Shadow, a prequel to the trilogy, and more! Did we mention that it's free?
This bundle is available only for a limited time via http://www.storybundle.com. It allows easy reading on computers, smartphones, and tablets as well as Kindle and other ereaders via file transfer, email, and other methods. You get multiple DRM-free formats (.epub and .mobi) for all books!
It's also super easy to give the gift of reading with StoryBundle, thanks to our gift cards – which allow you to send someone a code that they can redeem for any future StoryBundle bundle – and timed delivery, which allows you to control exactly when your recipient will get the gift of StoryBundle.
Why StoryBundle? Here are just a few benefits StoryBundle provides.
Get quality reads: We've chosen works from excellent authors to bundle together in one convenient package.
Pay what you want (minimum $5): You decide how much these fantastic books are worth. If you can only spare a little, that's fine! You'll still get access to a batch of exceptional titles.
Support authors who support DRM-free books: StoryBundle is a platform for authors to get exposure for their works, both for the titles featured in the bundle and for the rest of their catalog. Supporting authors who let you read their books on any device you want—restriction free—will show everyone there's nothing wrong with ditching DRM.
Give to worthy causes: Bundle buyers have a chance to donate a portion of their proceeds to Mighty Writers and Girls Write Now!
Receive extra books: If you beat the bonus price, you'll get the bonus books!
StoryBundle was created to give a platform for independent authors to showcase their work, and a source of quality titles for thirsty readers. StoryBundle works with authors to create bundles of ebooks that can be purchased by readers at their desired price. Before starting StoryBundle, Founder Jason Chen covered technology and software as an editor for Gizmodo.com and Lifehacker.com.
For more information, visit our website at storybundle.com, tweet us at @storybundle and like us on Facebook. For press inquiries, please email press@storybundle.com.