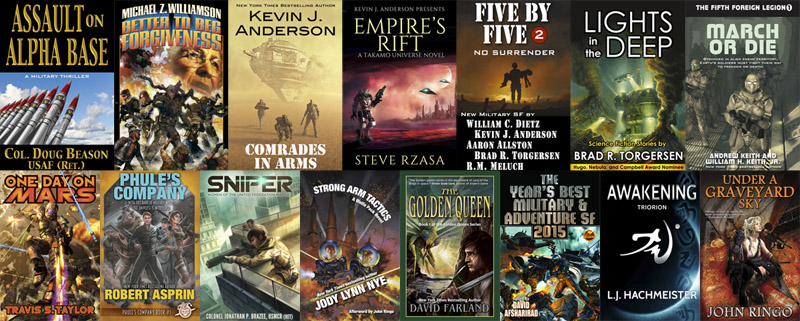 The Military SF Megabundle - Curated by Kevin J. Anderson
Stay on target!  Game over, man! It's a bug hunt!
Military science fiction is one of the most gripping subgenres in the field, and now we bring you 15 books in one StoryBundle, the Military SF Megabundle from storybundle.com, which runs only through June 8.
Name your own price for a big grab-bag of Military SF stories. $5 for the basic six books, or $15 for all fifteen books in the bundle. Baen Books, the preeminent publisher of military SF, contributed four books to the bundle, with BETTER TO BEG FORGIVENESS from Michael Z. Williamson, ONE DAY ON MARS from Travis S. Taylor, UNDER A GRAVEYARD SKY by John Ringo, and THE YEAR'S BEST MILITARY AND ADVENTURE SF edited by David Afsharirad.
Indie authors LJ Hachmeister contributed TRIORION, which I compared to Ender's Game, and super-successful ex-marine Jonathan P. Brazee added his novel SNIPER.
At WordFire Press, we contributed the first book in Robert Asprin's hilarious military SF spoof (and New York Times bestseller) PHULE'S COMPANY, Jody Lynn Nye's action-packed Wolfe Pack novel STRONG ARM TACTICS, Brad R. Torgersen's landmark collection LIGHTS IN THE DEEP, as well as Takamo Universe novel EMPIRE'S RIFT, my own COMRADES IN ARMS and the collection of five military SF novellas, FIVE BY FIVE. Colonel Doug Beason contributes SF thriller ASSAULT ON ALPHA BASE, David Farland gives THE GOLDEN QUEEN, first book in his military SF space opera series, and Andrew Keith and William H. Keith, Jr. offer the first novel in their bestselling Fifth Foreign Legion series.
Not only do you get this grab bag of wonderful pulse-pounding books, but a portion of the proceeds goes directly to benefit the Challenger Learning Centers for Space Science Education. Great reading, great price. Please help us out. – Kevin J. Anderson
The initial titles in the Military SF Megabundle (minimum $5 to purchase) are:
Empire's Rift by Steven Rzasa
Five by Five 2: No Surrender by Kevin J. Anderson
Comrades in Arms by Kevin J. Anderson
Assault on Alpha Base by Doug Beason
Lights in the Deep by Brad R. Torgersen
Better to Beg Forgiveness by Michael Z. Williamson
If you pay more than the bonus price of just $15, you get all six of the regular titles, plus NINE more!
Phules Company by Robert Asprin
Strong Arm Tactics by Jody Lynn Nye
The Golden Queen by David Farland
March or Die by Andrew Keith and William H. Keith, Jr.
Triorion: Awakening (Book One) by L.J. Hachmeister
Sniper by Jonathan P. Brazee
Under a Graveyard Sky by John Ringo
The Year's Best Military & Adventure SF 2015 by David Afsharirad
One Day on Mars by Travis S. Taylor
This bundle is available only for a limited time via http://www.storybundle.com. It allows easy reading on computers, smartphones, and tablets as well as Kindle and other ereaders via file transfer, email, and other methods. You get multiple DRM-free formats (.epub and .mobi) for all books!
It's also super easy to give the gift of reading with StoryBundle, thanks to our gift cards – which allow you to send someone a code that they can redeem for any future StoryBundle bundle – and timed delivery, which allows you to control exactly when your recipient will get the gift of StoryBundle.
Why StoryBundle? Here are just a few benefits StoryBundle provides.
Get quality reads: We've chosen works from excellent authors to bundle together in one convenient package.
Pay what you want (minimum $5): You decide how much these fantastic books are worth. If you can only spare a little, that's fine! You'll still get access to a batch of exceptional titles.
Support authors who support DRM-free books: StoryBundle is a platform for authors to get exposure for their works, both for the titles featured in the bundle and for the rest of their catalog. Supporting authors who let you read their books on any device you want—restriction free—will show everyone there's nothing wrong with ditching DRM.
Give to worthy causes: Bundle buyers have a chance to donate a portion of their proceeds to The Challenger Learning Centers for Space Science Education!
Receive extra books: If you beat the bonus price, you'll get the bonus books!
StoryBundle was created to give a platform for independent authors to showcase their work, and a source of quality titles for thirsty readers. StoryBundle works with authors to create bundles of ebooks that can be purchased by readers at their desired price. Before starting StoryBundle, Founder Jason Chen covered technology and software as an editor for Gizmodo.com and Lifehacker.com.
For more information, visit our website at storybundle.com, tweet us at @storybundle and like us on Facebook. For press inquiries, please email press@storybundle.com.