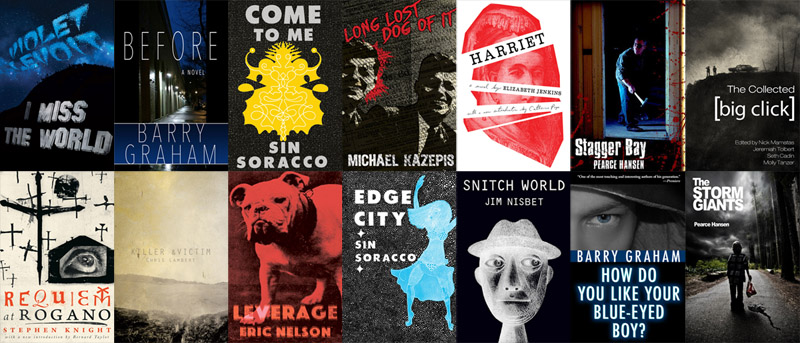 The Noir Bundle - Curated by Nick Mamatas
Forget the fedora, but double the length of the dark alley. Noir fiction isn't necessarily what you think. In the public imagination, the idea of noir is dominated by the films of the 1940s and early 1950s—overcoats and cigarettes, femmes fatale with gams that just won't quit, and plenty of the cheapest gin. But noir fiction is something different: there are few hardboiled detectives, and the female characters aren't the sexpots Hollywood makes it profits from. In hardboiled crime fiction, the characters are all tough. In noir, they're all screwed.
Noir fiction is noir—that is, black—because there is no light at the end of the tunnel, no justice, and not even all that much righteous vengeance. What noir does have is the most imaginative yet realistic writing, unforgettable characters, and the hardest heart punches you'll ever be nailed with in prose.
You will be entranced, then shaken utterly, by Violet LeVoit's hideously intelligent and incredibly dark I Miss the World. You'll understand the situation in Europe—economic collapse, violence, and political strife—through Michael Kazepis's Long Lost Dog of It better than you will through any newspaper article your "smart" friends on Facebook will share with you.
Authors Pearce Hansen and Barry Graham are the real deal. They learned to live on the wild side before they learned to write. Hansen's The Storm Giants takes the caper story and injects it with blood-red reality from the author's own veins; Graham's How Do You Like Your Blue-Eyed Boy? is an intense story of a man you definitely don't ever want to cross, or even meet.
There is no more literary and in-touch crime writer than Jim Nisbet. His Snitch World combines noir with a darkly comic critique of San Francisco's culture of start-ups and apps. And speaking of the ultra-contemporary, we have The Collected Big Click, a collection of short noir fiction (and a few essays) from the likes of Ken Bruen, Libby Cudmore, Tom Piccirilli, and many more from the cult online magazine.
And there are many more titles, from the classics Requiem at Rogano and Harriet, to the so-hip-you've-probably-never-heard-of-them Killer & Victim and Leverage. With the Indie Noir StoryBundle, your ereader is about to get a whole lot darker. – Nick Mamatas
The initial titles in the Noir Bundle (minimum $5 to purchase) are:
Come to Me by Sin Soracco
Stagger Bay by Pearce Hansen
Long Lost Dog Of It by Michael Kazepis
I Miss the World by Violet LeVoit
Harriet by Elizabeth Jenkins
Before by Barry Graham
If you pay more than the bonus price of just $15, you get all six of the regular titles, plus EIGHT more!
The Collected Big Click by Nick Mamatas, Jeremiah Tolbert, Seth Cadin and Molly Tanzer
Snitch World by Jim Nisbet
Edge City by Sin Soracco
The Storm Giants by Pearce Hansen
Leverage by Eric Nelson
Killer &Victim by Chris Lambert
Requiem at Rogano by Stephen Knight
How Do You Like Your Blue Eyed Boy? by Barry Graham
This bundle is available only for a limited time via http://www.storybundle.com. It allows easy reading on computers, smartphones, and tablets as well as Kindle and other ereaders via file transfer, email, and other methods. You get multiple DRM-free formats (.epub and .mobi) for all books!
It's also super easy to give the gift of reading with StoryBundle, thanks to our gift cards – which allow you to send someone a code that they can redeem for any future StoryBundle bundle – and timed delivery, which allows you to control exactly when your recipient will get the gift of StoryBundle.
Why StoryBundle? Here are just a few benefits StoryBundle provides.
Get quality reads: We've chosen works from excellent authors to bundle together in one convenient package.
Pay what you want (minimum $5): You decide how much these fantastic books are worth. If you can only spare a little, that's fine! You'll still get access to a batch of exceptional titles.
Support authors who support DRM-free books: StoryBundle is a platform for authors to get exposure for their works, both for the titles featured in the bundle and for the rest of their catalog. Supporting authors who let you read their books on any device you want—restriction free—will show everyone there's nothing wrong with ditching DRM.
Give to worthy causes: Bundle buyers have a chance to donate a portion of their proceeds to Mighty Writers and Girls Write Now!
Receive extra books: If you beat the bonus price, you'll get the bonus books!
StoryBundle was created to give a platform for independent authors to showcase their work, and a source of quality titles for thirsty readers. StoryBundle works with authors to create bundles of ebooks that can be purchased by readers at their desired price. Before starting StoryBundle, Founder Jason Chen covered technology and software as an editor for Gizmodo.com and Lifehacker.com.
For more information, visit our website at storybundle.com, tweet us at @storybundle and like us on Facebook. For press inquiries, please email press@storybundle.com.