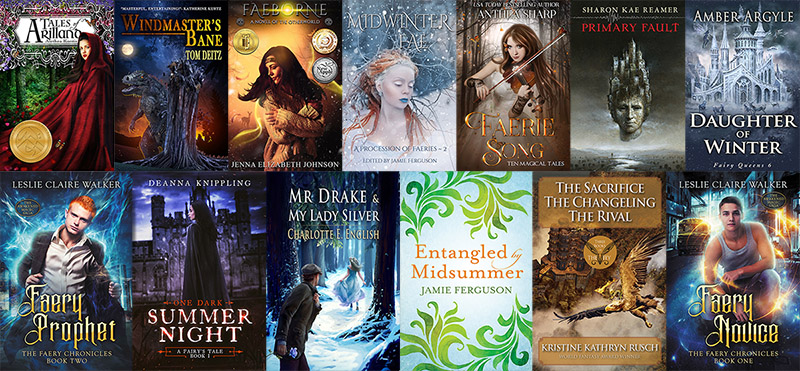 The Realm of Faerie Bundle - Curated by Jamie Ferguson
Enter the Realm of Faerie, a world of beauty, danger, and enchantment. But remember the legends if you want to make it back home again…
The tales in this bundle are set in worlds like Tír na nÓg, Annwn, the Otherworld, Elfame, as well as in our own—for there are places where the boundaries between worlds grow thin, and one can pass over as easily as stepping across the threshold of a door. There are queens, mermaids, and monsters. Bargains are made, and secrets kept. Duels are fought, curses laid, and wishes sometimes come true.
These stories contain both good faeries and bad, their motivations noble, or selfish, or sometimes beyond the ability for mere mortals to comprehend. Some of the worlds are enticing and filled with marvels, others rife with threat and intrigue—and, just like with much of faerie mythology, many of the tales in this bundle intertwine beauty, enchantment, and danger. For part of the appeal of Faerie is that it's a land of contradictions, a place where you could dance with a king or queen under the silver light of the moon, then the next night be sacrificed to a god so ancient no one remembers his name.
I've loved reading about faeries since I was little, and am delighted to bring you this collection of novels and short stories. I had a wonderful time putting together a collection of the kinds of books I love to read, and I hope you enjoy them as well.
Step into a fairy ring, walk through a portal, or follow one of the straight tracks, and enter the Realm of Faerie! – Jamie Ferguson
For StoryBundle, you decide what price you want to pay. For $5 (or more, if you're feeling generous), you'll get the basic bundle of four books in any ebook format—WORLDWIDE.
Tales of Arilland by Alethea Kontis
Midwinter Fae by Jamie Ferguson
Faeborne by Jenna Elizabeth Johnson
Windmaster's Bane by Tom Deitz
If you pay at least the bonus price of just $15, you get all four of the regular books, plus EIGHT more books!
Daughter of Winter by Amber Argyle
Faerie Song - Ten Magical Tales by Anthea Sharp
The Fey - Books 1-3 by Kristine Kathryn Rusch
Mr. Drake and My Lady Silver by Charlotte E. English
Entangled by Midsummer by Jamie Ferguson
The Faery Chronicles Book 2 - Faery Prophet by Leslie Claire Walker
Primary Fault by Sharon Kae Reamer
One Dark Summer Night by DeAnna Knippling
Then, if you're a StoryBundle newsletter subscriber (you can sign up any time for free!), you also get:
The Faery Chronicles Book 1 - Faery Novice by Leslie Claire Walker
Make sure to grab part 1 before you read part 2 in the bundle!
This bundle is available only for a limited time via http://www.storybundle.com. It allows easy reading on computers, smartphones, and tablets as well as Kindle and other ereaders via file transfer, email, and other methods. You get multiple DRM-free formats (.epub and .mobi) for all books!
It's also super easy to give the gift of reading with StoryBundle, thanks to our gift cards – which allow you to send someone a code that they can redeem for any future StoryBundle bundle – and timed delivery, which allows you to control exactly when your recipient will get the gift of StoryBundle.
Why StoryBundle? Here are just a few benefits StoryBundle provides.
Get quality reads: We've chosen works from excellent authors to bundle together in one convenient package.
Pay what you want (minimum $5): You decide how much these fantastic books are worth. If you can only spare a little, that's fine! You'll still get access to a batch of exceptional titles.
Support authors who support DRM-free books: StoryBundle is a platform for authors to get exposure for their works, both for the titles featured in the bundle and for the rest of their catalog. Supporting authors who let you read their books on any device you want—restriction free—will show everyone there's nothing wrong with ditching DRM.
Give to worthy causes: Bundle buyers have a chance to donate a portion of their proceeds to Mighty Writers and Girls Write Now!
Receive extra books: If you beat the bonus price, you'll get the bonus books!
StoryBundle was created to give a platform for independent authors to showcase their work, and a source of quality titles for thirsty readers. StoryBundle works with authors to create bundles of ebooks that can be purchased by readers at their desired price. Before starting StoryBundle, Founder Jason Chen covered technology and software as an editor for Gizmodo.com and Lifehacker.com.
For more information, visit our website at storybundle.com, tweet us at @storybundle and like us on Facebook. For press inquiries, please email press@storybundle.com.