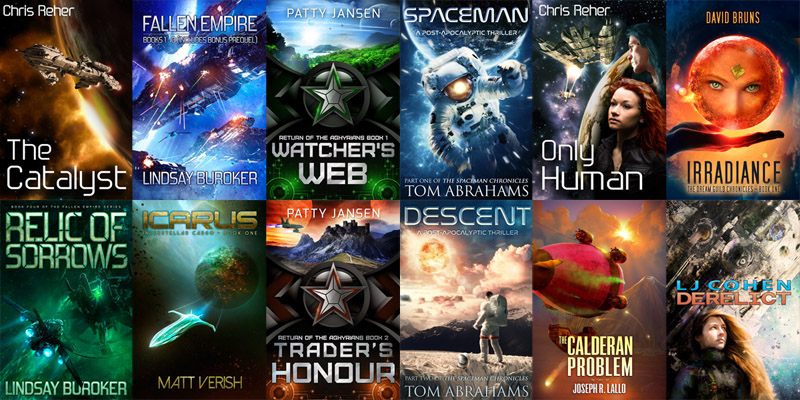 The Sci-Fi Series Bundle - Curated by Joseph R. Lallo
I love sci-fi. I love everything about it. I love how optimistic it can be, imagining a future where humanity has solved the unsolvable and conquered the unconquerable. I love how pessimistic it can be, imagining a world where man's hubris has left countless worlds smoking husks and bomb-riddled hellscapes. I love that it can posit a world where steam was the apex of technology. I love that it can propose a world were artificial intelligence has become so sophisticated it can fall victim to human neuroses.
StoryBundle has routinely done some of its best work when it dips into the realm of science fiction. When the site asked me to curate another sci-fi bundle, I was excited at the opportunity to dive back into a genre I love. This time around, I didn't pick a theme. My thinking was that I would find the best authors and pick their best books. This ran the risk of giving me a scattershot potpourri of stories. But wouldn't you know it? Themes began to emerge on their own. Great minds think alike. So, brace yourself for an exciting assortment of space operas, a gritty collection of dystopian futures, and a little dash of steampunk for flavor.
Let's start with Lindsay Buroker. A peerless crafter of both worlds and characters, her Fallen Empire series is some of her finest work. We've got the collected edition of her first three Fallen Empire novels, and the fourth as a bonus! Chris Reher's Targon Tales are brilliant space opera stories. Each book is a satisfying story of conflict and struggle in space, and we've got two for you to enjoy. David Bruns's Irradiance is a complex and thought-provoking look at a seemingly utopian world that hides a sinister truth. For those more interested in unlikely and unwilling adventurers, Derelict by LJ Cohen reveals what happens when the remnants of an ancient war suddenly make their way back into the stars. A heap of intrigue, blackmail, and terrorism await you in Icarus by Matt Verish. Patty Jansen, another luminary among the indie author ecosystem, has given us not one but two books in the Return of the Aghyrians series. Loaded with complex and fascinating world building, these stories will draw you in and keep you riveted. As if that wasn't enough, we've even got the first two SpaceMan Chronicles by Tom Abrahams, stories of desperation and survival woven with NASA-like precision. And as a little bit of a palate cleanser between hearty courses of space opera, how about The Calderan Problem, the most recent entry in my swashbuckling steampunk series Free-Wrench?
This isn't my first rodeo when it comes to curating bundles for StoryBundle. I can honestly say this is one of the strongest lineups I've been able to assemble. If you like rousing space adventures, you won't be disappointed. If you like stories of survival in post-apocalyptic worlds, read on and enjoy. Just name your price and hold on for the ride of your life! – Joseph R. Lallo
The initial titles in the Sci-Fi Series Bundle (minimum $5 to purchase) are:
SpaceMan (The SpaceMan Chronicles: Book 1) by Tom Abrahams
Watcher's Web (Return of the Aghyrians: Book 1) by Patty Jansen
The Fallen Empire Set: Books 1-3 (Includes Bonus Prequel) by Lindsay Buroker
The Catalyst (Targon Tales: Book 1) by Chris Reher
If you pay at least the bonus price of just $15, you get all four of the regular titles, plus eight more!
Descent (The SpaceMan: Chronicles Book 2) by Tom Abrahams
Trader's Honour (Return of the Aghyrians: Book 2) by Patty Jansen
Icarus by Matt Verish
Derelict (Halcyone Space: Book 1) by LJ Cohen
Relic of Sorrows (Fallen Empire: Book 4) by Lindsay Buroker
The Calderan Problem by Joseph R. Lallo
Irradiance (The Dream Guild Chronicles: Book 1) by David Bruns
Only Human (Targon Tales: Book 2) by Chris Reher
This bundle is available only for a limited time via http://www.storybundle.com. It allows easy reading on computers, smartphones, and tablets as well as Kindle and other ereaders via file transfer, email, and other methods. You get multiple DRM-free formats (.epub and .mobi) for all books!
It's also super easy to give the gift of reading with StoryBundle, thanks to our gift cards – which allow you to send someone a code that they can redeem for any future StoryBundle bundle – and timed delivery, which allows you to control exactly when your recipient will get the gift of StoryBundle.
Why StoryBundle? Here are just a few benefits StoryBundle provides.
Get quality reads: We've chosen works from excellent authors to bundle together in one convenient package.
Pay what you want (minimum $5): You decide how much these fantastic books are worth. If you can only spare a little, that's fine! You'll still get access to a batch of exceptional titles.
Support authors who support DRM-free books: StoryBundle is a platform for authors to get exposure for their works, both for the titles featured in the bundle and for the rest of their catalog. Supporting authors who let you read their books on any device you want—restriction free—will show everyone there's nothing wrong with ditching DRM.
Give to worthy causes: Bundle buyers have a chance to donate a portion of their proceeds to Mighty Writers and Girls Write Now!
Receive extra books: If you beat the bonus price, you'll get the bonus books!
StoryBundle was created to give a platform for independent authors to showcase their work, and a source of quality titles for thirsty readers. StoryBundle works with authors to create bundles of ebooks that can be purchased by readers at their desired price. Before starting StoryBundle, Founder Jason Chen covered technology and software as an editor for Gizmodo.com and Lifehacker.com.
For more information, visit our website at storybundle.com, tweet us at @storybundle and like us on Facebook. For press inquiries, please email press@storybundle.com.