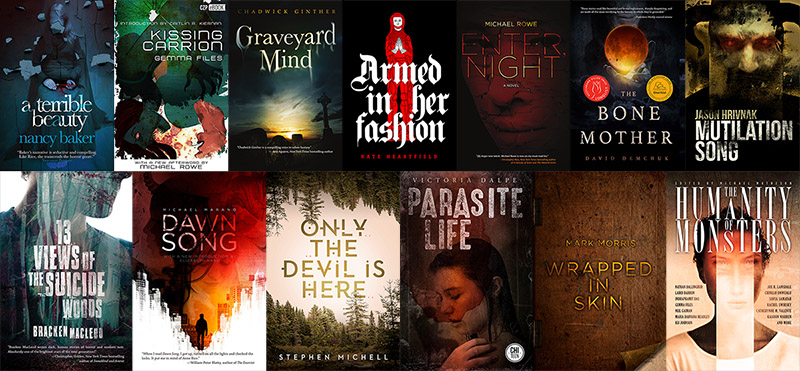 The Spooky Spectacular Bundle - Curated by Sandra Kasturi
"Those children who are born to autumn
do not suffer spring, nor its greening glance."
—Sandra Kasturi, "October Country"
Autumn is the most wonderful time of the year, and my favorite month is October. I may be somewhat biased, as it's my birthday month, but there's something deliciously bittersweet about the month—summer's ending, the shortening days, and lengthening mysterious nights, the new crispness in the air, the feeling that everything does (or should) smell like apples. (Fie on summer! Down with spring's nonsense! Hard pass on winter's snowy brightness!) And of course October culminates in the best of all holidays: Halloween! We can dress up and hide who we are, or perhaps reveal our innermost selves, as the veil between worlds thins. It's a month meant for horror stories.
This year, ChiZine Publications is proud to bring you a baker's dozen—that's right! A lucky thirteen eerie novels and collections, specially curated to whet the literary palate and read cozily by the fire, as the wind howls outside, and someone . . . someone taps at your door . . .
As always, at StoryBundle, you name your own price—whatever you feel the books are worth, and a portion of the proceeds goes to charity (this time to Mighty Writers and Girls Write Now). Sit down with some ghosts and vampires, shapeshifters and necromancers, and various other strange bedfellows. Keep your flashlight handy—just in case the lights go out.
The ChiZine Halloween Book Bundle runs for 3 weeks only. This is a horrifically good deal (see what I did there?), and a great way to score a collection of books to ease you further into autumn gently, and get you ready for Halloween. Remember, as Angela Lansbury said: "The worst kind of wolves are the ones that are hairy on the inside." And the worst (best) kinds of books are the ones that are scary on the inside.
—Sandra Kasturi, author & publisher, October aficionado
For StoryBundle, you decide what price you want to pay. For $5 (or more, if you're feeling generous), you'll get the basic bundle of five books in any ebook format—WORLDWIDE.
Armed in Her Fashion by Kate Heartfield
Graveyard Mind by Chadwick Ginther
Enter, Night by Michael Rowe
A Terrible Beauty by Nancy Baker
Kissing Carrion by Gemma Files
If you pay at least the bonus price of just $15, you get all four of the regular books, plus EIGHT more books!
Wrapped in Skin by Mark Morris
Parasite Life by Victoria Dalpe
Only the Devil is Here by Stephen Michell
Mutilation Song by Jason Hrivnak
The Humanity of Monsters by Michael Matheson
Dawn Song by Michael Marano
The Bone Mother by David Demchuk
13 Views of the Suicide Woods by Bracken MacLeod
This bundle is available only for a limited time via http://www.storybundle.com. It allows easy reading on computers, smartphones, and tablets as well as Kindle and other ereaders via file transfer, email, and other methods. You get multiple DRM-free formats (.epub and .mobi and .pdf) for all books!
It's also super easy to give the gift of reading with StoryBundle, thanks to our gift cards – which allow you to send someone a code that they can redeem for any future StoryBundle bundle – and timed delivery, which allows you to control exactly when your recipient will get the gift of StoryBundle.
Why StoryBundle? Here are just a few benefits StoryBundle provides.
Get quality reads: We've chosen works from excellent authors to bundle together in one convenient package.
Pay what you want (minimum $5): You decide how much these fantastic books are worth. If you can only spare a little, that's fine! You'll still get access to a batch of exceptional titles.
Support authors who support DRM-free books: StoryBundle is a platform for authors to get exposure for their works, both for the titles featured in the bundle and for the rest of their catalog. Supporting authors who let you read their books on any device you want—restriction free—will show everyone there's nothing wrong with ditching DRM.
Give to worthy causes: Bundle buyers have a chance to donate a portion of their proceeds to Mighty Writers and Girls Write Now!
Receive extra books: If you beat the bonus price, you'll get the bonus books!
StoryBundle was created to give a platform for independent authors to showcase their work, and a source of quality titles for thirsty readers. StoryBundle works with authors to create bundles of ebooks that can be purchased by readers at their desired price. Before starting StoryBundle, Founder Jason Chen covered technology and software as an editor for Gizmodo.com and Lifehacker.com.
For more information, visit our website at storybundle.com, tweet us at @storybundle and like us on Facebook. For press inquiries, please email press@storybundle.com.