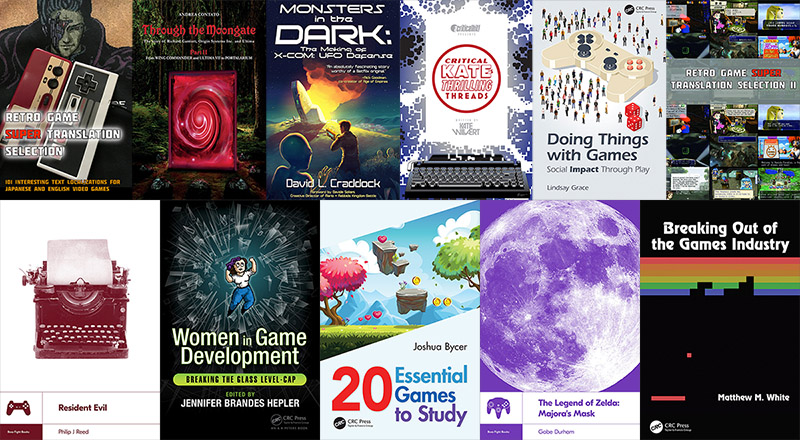 The Summer Invasion Game Bundle - Curated by David L. Craddock
Don't rely on your local weather to provide a warm and sunny climate. The Summer Invasion Game Bundle of 11 books provides vacations to realms of high fantasy, impending doom able to be warded off by turning back the clock, tactical fantasy against extraterrestrial foes, and more.
Gaming historian "Critical" Kate Willaert rounds up her deep dives into game culture in Critical Kate's Thrilling Threads. Boss Fight Books founding editor and author Gabe Durham examines the themes of The Legend of Zelda: Majora's Mask. Lindsay D. Grace suggests ways games can make an impact socially in Doing Things with Games.
All that, plus David L. Craddock's critically acclaimed Monsters in the Dark: The Making of X-COM: UFO Defense charts the early years of legendary game designer Julian Gollop, Jennifer Brandes Hepler provides advice for female developers looking to break the glass ceiling in Women in Game Development, Kurt Kalata looks at more translations of classic video games, and many others.
StoryBundle is a pay-what-you-want platform for independent authors to share their works with readers (and gamers) like you. Paying at least $5 will get you four books from the Summer Invasion Game Bundle, while paying $15 or more unlocks all 11 books.
StoryBundle is pleased to partner with Women in Games, a nonprofit founded for the purpose of fostering equality and diversity in the gaming industry. Per womeningames.org, the organization seeks "to establish a gaming industry, culture and community free from discrimination, where full equity of opportunity, treatment and conditions empowers all girls and women, from all ethnicities, of all orientations, to achieve their full potential in the games and esports industries." For more information visit womeningames.org. – David L. Craddock
* * *
For StoryBundle, you decide what price you want to pay. For $5 (or more, if you're feeling generous), you'll get the basic bundle of four books in any ebook format—WORLDWIDE.
Doing Things with Games by Lindsay Grace
Breaking Out of the Games Industry by Matthew M. White
Through The Moongate: Part II by Andrea Contato
Retro Game Super Translation Selection by Kurt Kalata and Hanenashi Error
If you pay at least the bonus price of just $15, you get all four of the regular books, plus seven more books, for a total of 11!
Women in Game Development edited by Jennifer Brandes Hepler
20 Essential Games to Study by Joshua Bycer
Retro Game Super Translation Selection II by Kurt Kalata and Hanenashi Error
Monsters in the Dark by David L. Craddock
The Legend of Zelda: Majora's Mask by Gabe Durham
Boss Fight Books: Resident Evil by Philip J Reed
Critical Kate's Thrilling Threads by Kate Willaert
This bundle is available only for a limited time via http://www.storybundle.com. It allows easy reading on computers, smartphones, and tablets as well as Kindle and other ereaders via file transfer, email, and other methods. You get multiple DRM-free formats (.epub, .mobi) for all books!
It's also super easy to give the gift of reading with StoryBundle, thanks to our gift cards – which allow you to send someone a code that they can redeem for any future StoryBundle bundle – and timed delivery, which allows you to control exactly when your recipient will get the gift of StoryBundle.
Why StoryBundle? Here are just a few benefits StoryBundle provides.
Get quality reads: We've chosen works from excellent authors to bundle together in one convenient package.
Pay what you want (minimum $5): You decide how much these fantastic books are worth. If you can only spare a little, that's fine! You'll still get access to a batch of exceptional titles.
Support authors who support DRM-free books: StoryBundle is a platform for authors to get exposure for their works, both for the titles featured in the bundle and for the rest of their catalog. Supporting authors who let you read their books on any device you want—restriction free—will show everyone there's nothing wrong with ditching DRM.
Give to worthy causes: Bundle buyers have a chance to donate a portion of their proceeds to Women in Games!
Receive extra books: If you beat the bonus price, you'll get the bonus books!
StoryBundle was created to give a platform for independent authors to showcase their work, and a source of quality titles for thirsty readers. StoryBundle works with authors to create bundles of ebooks that can be purchased by readers at their desired price. Before starting StoryBundle, Founder Jason Chen covered technology and software as an editor for Gizmodo.com and Lifehacker.com.
For more information, visit our website at storybundle.com, tweet us at @storybundle and like us on Facebook. For press inquiries, please email press@storybundle.com.