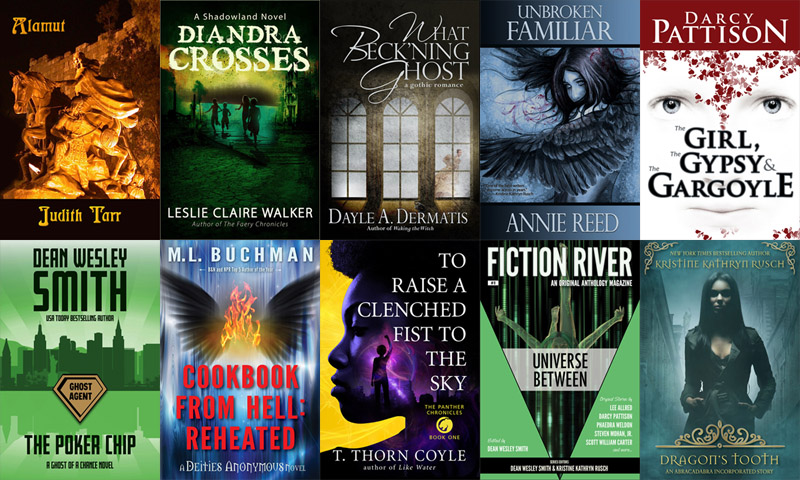 The Summer Smash Game Bundle - Curated by Dean Wesley Smith
I grew up on Twilight Zone back in the late 1950s and through the early 1960s. I can't begin to tell you how many times I heard the sentence, "In the middle ground between light and shadow…" in that opening sequence to the Twilight Zone.
Thankfully, my parents didn't seem to mind that I watched that show every week. And for some reason that sentence out of the opening sequence stuck with me for my entire life.
I loved living in that middle ground. All my writing falls in the middle ground between two places. Every story. Some more obviously than others, but without a doubt, every story or novel that I write, or every book or magazine I edit, falls in the "between" place.
I revel in that, no matter how hard rules tried to force me one way or the other. I liked living there in the middle, in that place between light and dark.
When I was writing Star Trek, I created a place called The Captain's Table, a fantasy bar in Star Trek only Captains could go in from any planet. And I wrote a Star Trek book that was a complete mystery novel.
Between.
I love editing "between" from writers because I believe it pulls out the most powerful stories.
When I edited Fiction River: Universe Between, which is in this bundle, I was looking for that "between" quality with every story I bought. I think I found it.
With this bundle, I was looking for the very same thing.
For example: Annie Reed's wonderful tale is about that place between a wizard and a familiar. That bond. And how breaking that bond with murder can end up in very unexpected places.
M.L. Buchman takes fantasy to a new head-shaking and funny place when Satan ends up in a midlife crisis and she can't snap herself out of it in time.
Of course, in a fantasy volume of "between," there would need to be a number of ghost stories. Now ghosts, by their very nature, are between worlds. Not alive, not completely gone. Dayle A. Dermatis has her main character fall in love with a ghost in a strange, new and very atmospheric modern gothic. While in my book I take my ghosts, turn them into a team, and make them save the world a few times.
Leslie Claire Walker's novel represents the area of fantasy where a character must leave a safe home and venture into the void. The character lives between the two places, not happy in either.
Judith Tarr and Darcy Pattison both take us to fantasy worlds in their books that walk that line between feeling real and feeling fantasy.
And Kristine Kathryn Rusch gives us a very real character just trying to save her job, and to do that she must shut down a powerful source of black magic.
All of the books have strong elements of "between" in them. But T.Thorn Coyle takes "between" to new levels that even surprised me. Imagine the Black Panthers of the 1960s, only with magic in a stunningly well-written and detailed take of that turbulent time in history.
I think any fantasy reader is going to be amazed and entertained by these books.
Plus, another bonus: Our charity, AbleGamers, helps people with disabilities enjoy the imaginary worlds of video games. The organization provides one-on-one assistance to help people with a variety of disabilities join the lively interactive world of gaming, easing the social isolation that being disabled can bring.
Disabled people very much live between worlds and Ablegamers.com helps them survive. And since fantasy is a major part of gaming, this is a perfect fit in more ways than one.
So here's what you can do: buy the bundle for yourself or your fantasy fiction friends, then toss in a few bucks for AbleGamers. Helping others while getting some top fantasy novels to read.
And remember, this bundle won't last long. So pick up this bundle today, and throw some of that money you saved not buying ten books toward AbleGamers. You'll make someone's life a little brighter, and have hours of wonderful fantasy reading in the process.– Dean Wesley Smith
The initial titles in the The Universe Between Bundle (minimum $5 to purchase) are:
Diandra Crosses by Leslie Claire Walker
Alamut by Judith Tarr
What Beck'ning Ghost by Dayle A. Dermatis
Unbroken Familiar by Annie Reed
If you pay more than the bonus price of just $15, you get all four of the regular titles, plus SIX more!
Dragon's Tooth by Kristine Kathryn Rusch
Universe Between by Fiction River
The Poker Chip by Dean Wesley Smith
To Raise a Clenched Fist to the Sky by T. Thorn Coyle
Cookbook From Hell: Reheated by M. L. Buchman
The Girl, The Gypsy & The Gargoyle by Darcy Pattison
This bundle is available only for a limited time via http://www.storybundle.com. It allows easy reading on computers, smartphones, and tablets as well as Kindle and other ereaders via file transfer, email, and other methods. You get multiple DRM-free formats (.epub and .mobi) for all books!
It's also super easy to give the gift of reading with StoryBundle, thanks to our gift cards – which allow you to send someone a code that they can redeem for any future StoryBundle bundle – and timed delivery, which allows you to control exactly when your recipient will get the gift of StoryBundle.
Why StoryBundle? Here are just a few benefits StoryBundle provides.
Get quality reads: We've chosen works from excellent authors to bundle together in one convenient package.
Pay what you want (minimum $5): You decide how much these fantastic books are worth. If you can only spare a little, that's fine! You'll still get access to a batch of exceptional titles.
Support authors who support DRM-free books: StoryBundle is a platform for authors to get exposure for their works, both for the titles featured in the bundle and for the rest of their catalog. Supporting authors who let you read their books on any device you want—restriction free—will show everyone there's nothing wrong with ditching DRM.
Give to worthy causes: Bundle buyers have a chance to donate a portion of their proceeds to TheAbleGamers
Receive extra books: If you beat the bonus price, you'll get the bonus books!
StoryBundle was created to give a platform for independent authors to showcase their work, and a source of quality titles for thirsty readers. StoryBundle works with authors to create bundles of ebooks that can be purchased by readers at their desired price. Before starting StoryBundle, Founder Jason Chen covered technology and software as an editor for Gizmodo.com and Lifehacker.com.
For more information, visit our website at storybundle.com, tweet us at @storybundle and like us on Facebook. For press inquiries, please email press@storybundle.com.