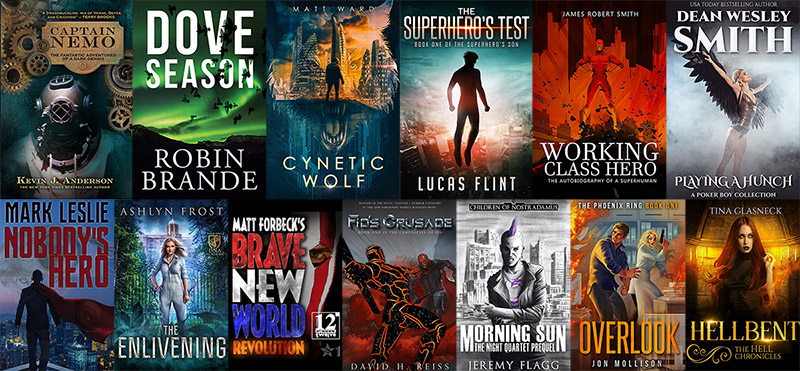 The Up, Up and Away Superheroes Bundle - Curated by Kevin J. Anderson
If reading is your kryptonite, I've put together a superpowered StoryBundle—thirteen books with marvelous heroes, supervillains, secret identities, mutant powers, and extraordinary gentlemen (and ladies).
In curating this batch, I included my novel Captain Nemo—one of my favorites—the life story of Jules Verne's fictional friend, who fights pirates at sea, is marooned on a mysterious island, finds a passage to the center of the Earth, crosses Africa in a balloon, and builds the extraordinary sub-marine boat, the Nautilus.
Dean Wesley Smith presents a brand new book featuring his popular and unnaturally talented character Poker Boy. Heroes comes in all shapes, sizes, and personas.What makes a hero super? Mark Leslie's collection Nobody's Hero contains seven stories that explore what makes a hero.
A power she doesn't want. But everyone else does.In Robin Brande's Dove Season Marnie has a secret she's been able to hide from the world for years. But now she's been exposed, and her worst fears are coming true.What does the government want from her? To use her as a spy? A weapon? A warrior? She's not made for any of those.But Marnie can't resist the forces who are after her, any more than she can resist using her power.
Matt Forbeck's Brave New World: Revolution: In a world in which supers either work for the government or are thrown into prison, the legend known as Patriot is finally caught and will soon be executed for his crimes — unless his friends in the rebellious Defiance can break him out!
In Jon Mollison's Overlook, nothing's more dangerous than an invisible man… Matt Ward's Cynetic Wolf: An immortal government, half-human oppressed masses, and a young hybrid whose existence threatens everything the cyborg overlords built since the world ended.
In Lucas Flint's The Superhero's Test, seventeen-year-old Kevin 'Bolt' Jason must learn how to control his newly discovered superpowers to protect his family from asupervillain who seeks to destroy him.
What happens when you find out that you suddenly have super-powers is that Uncle Sam makes you an offer you can't refuse. That's Working Class Hero by James Robert Smith. In Fid's Crusade by David Reiss, we see that in the end, it may take a villain to save the world from those entrusted with the world's protection.
The Enlivening by Ashlyn Frost—She's his Frankenstein and now it's time to pay. Tina Glasneck's Hellbent features a hammerless Thor, a devious plan, and a destiny to thwart. And in Jeremy Flagg's Morning Sun: Before joining the Nighthawks, thirteen outcasts fought alone. Their paths should never have crossed. As the Children of Nostradamus come into their own, they have to ask: does having superpowers make them heroes?
You'll read these faster than a speeding bullet. (Sorry, the groaners just write themselves!) – Kevin J. Anderson
* * *
For StoryBundle, you decide what price you want to pay. For $5 (or more, if you're feeling generous), you'll get the basic bundle of five books in any ebook format—WORLDWIDE.
Captain Nemo - The Fantastic Adventures of a Dark Genius by Kevin J. Anderson
Cynetic Wolf by Matt Ward
Working Class Hero by James Robert Smith
Dove Season by Robin Brande
The Superhero's Test by Lucas Flint
If you pay at least the bonus price of just $15, you get all five of the regular books, plus eight more more books, for a total of thirteen!
Playing a Hunch by Dean Wesley Smith
Fid's Crusade by David Reiss
The Enlivening by Ashlyn Frost
Nobody's Hero by Mark Leslie
Morning Sun by Jeremy Flagg
Overlook by Jon Mollison
Hellbent by Tina Glasneck
Brave New World Revolution by Matt Forbeck
This bundle is available only for a limited time via http://www.storybundle.com. It allows easy reading on computers, smartphones, and tablets as well as Kindle and other ereaders via file transfer, email, and other methods. You get multiple DRM-free formats (.epub, .mobi) for all books!
It's also super easy to give the gift of reading with StoryBundle, thanks to our gift cards – which allow you to send someone a code that they can redeem for any future StoryBundle bundle – and timed delivery, which allows you to control exactly when your recipient will get the gift of StoryBundle.
Why StoryBundle? Here are just a few benefits StoryBundle provides.
Get quality reads: We've chosen works from excellent authors to bundle together in one convenient package.
Pay what you want (minimum $5): You decide how much these fantastic books are worth. If you can only spare a little, that's fine! You'll still get access to a batch of exceptional titles.
Support authors who support DRM-free books: StoryBundle is a platform for authors to get exposure for their works, both for the titles featured in the bundle and for the rest of their catalog. Supporting authors who let you read their books on any device you want—restriction free—will show everyone there's nothing wrong with ditching DRM.
Give to worthy causes: Bundle buyers have a chance to donate a portion of their proceeds to the Challenger Center for Space Education!
Receive extra books: If you beat the bonus price, you'll get the bonus books!
StoryBundle was created to give a platform for independent authors to showcase their work, and a source of quality titles for thirsty readers. StoryBundle works with authors to create bundles of ebooks that can be purchased by readers at their desired price. Before starting StoryBundle, Founder Jason Chen covered technology and software as an editor for Gizmodo.com and Lifehacker.com.
For more information, visit our website at storybundle.com, tweet us at @storybundle and like us on Facebook. For press inquiries, please email press@storybundle.com.