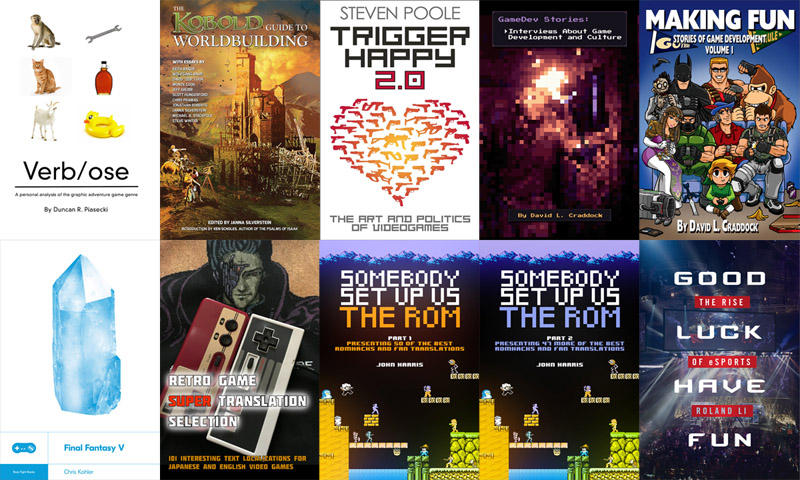 The Winter Wonderland Game Bundle - Curated by Simon Carless
We only do 3 of these Video Game StoryBundles per year because we care about quality. Why? Have you noticed these weekly bundles on one particular subject get same-y so quickly? We don't do that and won't do that. We vary things up - while still bringing you books from a few regular sources that we enjoy.
And that's why this Winter Wonderland Game StoryBundle has massive standout books (Chris Kohler's Boss Fight Books tome on Final Fantasy V, bundled for the first time!), StoryBundle ONLY exclusives (the second in John Harris' tremendously fun ROM hacking books, plus a great David Craddock interview compilation), unexpected books from big publishers (Roland Li's excellent eSports tome) and loads more.
So whether you want wacky translation hijinks (Retro Game Super Translation Section), smartly written prose from an early don of video game columnists (Trigger Happy 2.0), or several other standout books, this bundle may just be for you!
By the way, the optional charity and the curator's full cut from this bundle will be going to the Prisoners Literature Project, a vitally important all-volunteer, non-profit group that sends donated books – more than 3,000 per month in more than 1,000 packages – directly to prisoners throughout the United States. Please support them!
The initial titles in the The Winter Wonderland Game Bundle (minimum $5 to purchase) are:
Verb/ose by Duncan R. Piasecki
The KOBOLD Guide to Worldbuilding by Wolfgang Baur
Trigger Happy 2.0 by Steven Poole
If you pay at least the bonus price of just $15, you get all three of the regular titles, plus SEVEN more!
GameDev Stories: Interviews About Game Development and Culture by David L. Craddock
Boss Fight Books: Final Fantasy V by Chris Kohler
Making Fun: Stories of Game Development Vol. 1 by David L. Craddock
Somebody Set Up Us the ROM, Part One by John Harris
Somebody Set Up Us the ROM, Part Two by John Harris
Good Luck Have Fun: The Rise of eSports by Roland Li
Retro Game Super Translation Selection by Kurt Kalata and Hanenashi Error
This bundle is available only for a limited time via http://www.storybundle.com. It allows easy reading on computers, smartphones, and tablets as well as Kindle and other ereaders via file transfer, email, and other methods. You get multiple DRM-free formats (.epub and .mobi) for all books!
It's also super easy to give the gift of reading with StoryBundle, thanks to our gift cards – which allow you to send someone a code that they can redeem for any future StoryBundle bundle – and timed delivery, which allows you to control exactly when your recipient will get the gift of StoryBundle.
Why StoryBundle? Here are just a few benefits StoryBundle provides.
Get quality reads: We've chosen works from excellent authors to bundle together in one convenient package.
Pay what you want (minimum $5): You decide how much these fantastic books are worth. If you can only spare a little, that's fine! You'll still get access to a batch of exceptional titles.
Support authors who support DRM-free books: StoryBundle is a platform for authors to get exposure for their works, both for the titles featured in the bundle and for the rest of their catalog. Supporting authors who let you read their books on any device you want—restriction free—will show everyone there's nothing wrong with ditching DRM.
Give to worthy causes: Bundle buyers have a chance to donate a portion of their proceeds to The Prisoners Literature Project!
Receive extra books: If you beat the bonus price, you'll get the bonus books!
StoryBundle was created to give a platform for independent authors to showcase their work, and a source of quality titles for thirsty readers. StoryBundle works with authors to create bundles of ebooks that can be purchased by readers at their desired price. Before starting StoryBundle, Founder Jason Chen covered technology and software as an editor for Gizmodo.com and Lifehacker.com.
For more information, visit our website at storybundle.com, tweet us at @storybundle and like us on Facebook. For press inquiries, please email press@storybundle.com.