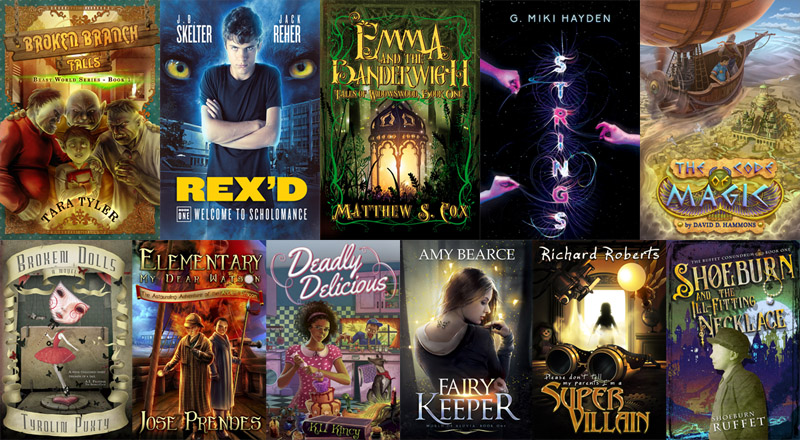 The Hero-Up Middle Grade Bundle - Curated by Curiosity Quills Press
Alisa Gus, Curiosity Quills: As both publisher and a mother of a pre-schooler and an almost-teen (and of a very precocious 15-month-old), I oftentimes find myself balancing between sharing my work with the kids - and being careful not to let them at the material that's not quite fit for their consumption. Needless to say, they aren't well pleased at being excluded, so anytime we at Curiosity Quills find and accept for publication a (crossover) middle-grade-appropriate property, my heart sorta-kinda rejoices. It means another novel we can sink our teeth into together, and then discuss before bedtime to ours hearts' content. Well, and so that the time to actually sleep gets pushed further and further back, but of course, we all pretend we don't know that. Yet for reading, for making time to do so among the eternal distractions of TV, and schoolwork, and internet - oh, I do think it's very, very worthwhile.
Which, of course, only works if the kids can actually agree on which novel they are ready to settle down with. And in the end, when making their case, they really do describe their choices in wonderfully cogent ways, making me reconsider the stories from their perspective. After all, they are the ones the authors are telling them for, and they are the ones Curiosity Quills is releasing them into the world for, not unlike, every single time, sending a kindergartner into the school on the first day of term. Well, them - and their parents.
As such, it really gives me a special sort of pleasure to invite them to help me introduce these stories now to you and your kids - and hope they will leave as much of an impression on your family as they had on mine.
And now, without further ado: behold the Gus family, unfiltered, sounding off on their favorite properties :)
Almost-teen: About time you asked someone who is actually supposed to be reading these things, Mom! Let me know if you need to read acquisitions for you. My Pokemon-cards fund could use some donations.
So, about the best ones? I think Supervillain for sure, even though Penny's a girl, and you keep telling me I should read it despite her being a girl. She's just cool, you know. Like Hermione, if she was actually not such a know-it-all. And used gadgets instead of wands. And got more in trouble.
And then the Dragon one, about Sherlock Holmes. I like that manor-school place they're in. And Watson is... he's kinda like Aiden, you know? [his friend] He digs him. And then, it's just so 19th century, you know? Remember, how we went in one of those Victorian homes in Louisville? It's kinda like that, except it's not a museum.
And Shoeburn, totally! Heh, that name. Still gets me! He's like completely crazy, you know? In a good way. Except you kinda end it where you want to keep going. His mother is... [reducted for spoilers] So, why was she there, anyway? I guess I want Regina to show up again, too. I like how they were throwing shade at one another, her and Shoe. And Etta's mother, too. Because, what's her thing, right?
Pre-schooler: Broken Branch Falls. Because it's like Shrek. Only with kids. Why do cartoons have adults? They are for us, right?
Rex'd. Because remember how we read it on Halloween? And then Hetab got dressed as a werewolf in school, and I told him I totally knew it was him, and you told me I was like Rex, only cooler.
Alisa: Broken Dolls, if I had to pick my favorite. It's a love story, to me, as much as horror. But the sort of love story that you would generally find in Anderson's fairytales, not necessarily with a happy ending, but one that fits it like a glove, and makes you question how you could have expected anything different.
Eugene, Curiosity Quills: Supervillain. Because you gotta love a girl that's kicking so much butt in Los Angeles - and doesn't get caught in the process. [stern look at the kids] Not that you should take as a call to action, remember? At least, until you guys develop superpowers.
Precocious 15-month-old: Mama, gi-gi [pointing to a Wiggles toy guitar with a very speaking glance].
And on that...well, note, hope you guys, reading, will sound off too, and tell us at Storybundle and Curiosity Quills Press which one was your favorite, and if your kids agreed!
Cheers,
The Curiosity Quills Family
The initial titles in the Hero-Up Middle Grade Bundle (minimum $5 to purchase) are:
Broken Branch Falls by Tara Tyler
Emma and the Banderwigh by Matthew S. Cox
Rex'd: Welcome to Scholomance by Jack Reher and J.B. Skelter
Strings by G. Miki Hayden
The Code of Magic by David D. Hammons
If you pay more than the bonus price of just $15, you get all five of the regular titles, plus SIX more, including a book that won't be on sale until late 2017!
Broken Dolls by Tyrolin Puxty
Shoeburn and the Ill-Fitting Necklace by Shoeburn Ruffet
The Astounding Adventure of the Ancient Dragon by Jose Prendes
Please Don't Tell My Parents I'm a Supervillain by Richard Roberts
Deadly Delicious by K.L. Kincy
Fairy Keeper by Amy Bearce
This bundle is available only for a limited time via http://www.storybundle.com. It allows easy reading on computers, smartphones, and tablets as well as Kindle and other ereaders via file transfer, email, and other methods. You get multiple DRM-free formats (.epub, .mobi and .pdf) for all books!
It's also super easy to give the gift of reading with StoryBundle, thanks to our gift cards – which allow you to send someone a code that they can redeem for any future StoryBundle bundle – and timed delivery, which allows you to control exactly when your recipient will get the gift of StoryBundle.
Why StoryBundle? Here are just a few benefits StoryBundle provides.
Get quality reads: We've chosen works from excellent authors to bundle together in one convenient package.
Pay what you want (minimum $5): You decide how much these fantastic books are worth. If you can only spare a little, that's fine! You'll still get access to a batch of exceptional titles.
Support authors who support DRM-free books: StoryBundle is a platform for authors to get exposure for their works, both for the titles featured in the bundle and for the rest of their catalog. Supporting authors who let you read their books on any device you want—restriction free—will show everyone there's nothing wrong with ditching DRM.
Give to worthy causes: Bundle buyers have a chance to donate a portion of their proceeds to Mighty Writers and Girls Write Now!
Receive extra books: If you beat the bonus price, you'll get the bonus books!
StoryBundle was created to give a platform for independent authors to showcase their work, and a source of quality titles for thirsty readers. StoryBundle works with authors to create bundles of ebooks that can be purchased by readers at their desired price. Before starting StoryBundle, Founder Jason Chen covered technology and software as an editor for Gizmodo.com and Lifehacker.com.
For more information, visit our website at storybundle.com, tweet us at @storybundle and like us on Facebook. For press inquiries, please email press@storybundle.com.