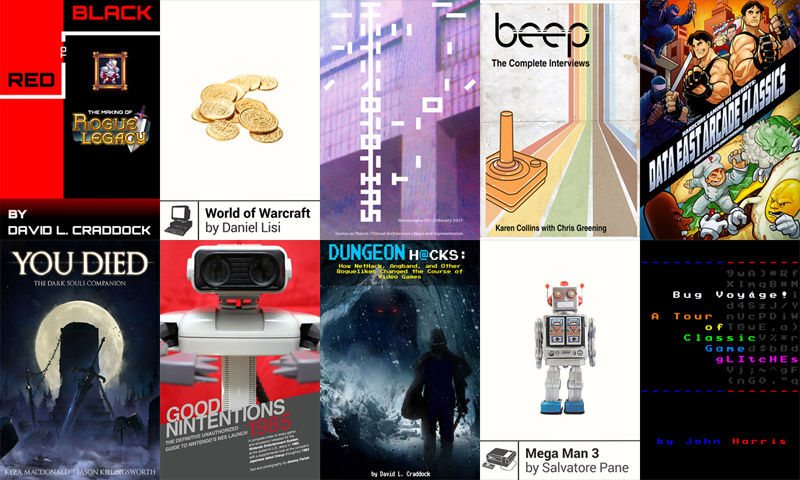 The Rogue Souls Bundle - Curated by Simon Carless
Continuing its popular "pay what you want" ebook bundles, StoryBundle is very proud to present the Rogue Souls Game StoryBundle. This very special bundle includes 10 standout game-centric ebooks headed by Dark Souls tribute 'You Died' & Rogue genre history 'Dungeon Hacks' - with the newly launched Video Game History Foundation non-profit designated as the charity for this bundle.

The basic purchase tier ($5 or above) for the Rogue Souls Game StoryBundle includes 'Beep - The Complete Interviews' from Karen Collins & Chris Greening, conducted for the acclaimed game audio documentary of the same name and featuring a ton of amazing interviews with notable Western and Japanese game audio greats. Also included is 'Boss Fight Books - Mega Man 3' by Salvatore Pane, an affecting personal history that's also a deep look into Capcom's all-time NES classic Mega Man 3, one of the trickiest but most rewarding platformers ever to grace Nintendo platforms.

Additionally available at this tier is 'Heterotopias 001', edited by Gareth Damian Martin, a clever inaugural issue of a zine focused on 'the spaces & architecture of virtual worlds' including insightful writing & art on Kane & Lynch 2, Tomb Raider & more. Finally, we also have 'Red To Black - The Making Of Rogue Legacy' by David L. Craddock, featuring interviews and analysis to work out just how the 2013 roguelikelike (!) got it right.

The higher-tier rewards - available at the payment tier of $15 or your local equivalent - is headed by 'You Died - The (Unofficial) Dark Souls Companion' from Keza MacDonald & Jason Killingsworth, a history of FromSoftware's majestic, tough as nails action RPG that's at the same time interviews with key figures from playing & translating it, plus a bird's eye view of the entire phenomenon. Plus you get 'Dungeon Hacks' from David L Craddock, an exemplary history book charts the rise of Rogue & its associated genre brethren with smartness and exactitude.

You'll also get 'Good Nintentions 1985' from Jeremy Parish, the story of the Nintendo Entertainment System's initial U.S. game line-up, with a plethora of newly taken pictures & screenshots, peppy analysis of the titles, and even a bonus section dealing with the Famicom's 1983 launch in Japan. Also available is 'Boss Fight Books - World Of Warcraft' from Daniel Lisi, an entertaining pop history where the author's personal run-ins with Blizzard's magnum opus match up with a history of the game itself, to delightful ends.
Finally, we also have 'HG101 Presents: Data East Arcade Classics' from Kurt Kalata & friends, dipping into a corner of the arcade universe that may surprise even experts, spanning Data East classics like BurgerTime to obscurities like Skull Fang & everything in between. And rounding things out is the StoryBundle exclusive 'Bug Voyáge! A Tour of Classic Game Glitches' by John Harris. Harris has delved deep into classic games - from Pac-Man to Galaga and beyond - to point out some amazing glitches, how you trigger them, and the underlying logic that makes them possible." – Simon Carless
The initial titles in the Rogue Souls Bundle (minimum $5 to purchase) are:
Beep - The Complete Interviews by Karen Collins
Boss Fight Books: World of Warcraft by Daniel Lisi
Heterotopias 001 by Gareth Damian Martin
Red to Black - The Making of Rogue Legacy by David L. Craddock
If you pay more than the bonus price of just $15, you get all four of the regular titles, plus SIX more!
Bug Voyáge! (StoryBundle Exclusive!) by John Harris
You Died: The Unofficial Dark Souls Companion by Keza MacDonald and Jason Killingsworth
Dungeon Hacks by David L. Craddock
Boss Fight Books: Mega Man 3 by Salvatore Pane
HG101 Presents: Data East Arcade Classics by Kurt Kalata
Good Nintentions 1985 by Jeremy Parish
Finally, the optional charity for this bundle is the Video Game History Foundation, a brand new non-profit organization dedicated to cataloging, digitizing, and preserving the history of video games. With digital archives like the U.S. NES Launch Collection already live, the organization fits in very well with the knowledge dissemination goals of the Game StoryBundle series, and we're proud to support it.
This bundle is available only for a limited time via http://www.storybundle.com. It allows easy reading on computers, smartphones, and tablets as well as Kindle and other ereaders via file transfer, email, and other methods. You get multiple DRM-free formats (.epub and .mobi) for all books, and .pdf for Beep, Bug Voyage, Good Nintentions, Data East Arcade Classics, Heterotopias 001, Mega Man 3 and World of Warcraft!
It's also super easy to give the gift of reading with StoryBundle, thanks to our gift cards – which allow you to send someone a code that they can redeem for any future StoryBundle bundle – and timed delivery, which allows you to control exactly when your recipient will get the gift of StoryBundle.
Why StoryBundle? Here are just a few benefits StoryBundle provides.
Get quality reads: We've chosen works from excellent authors to bundle together in one convenient package.
Pay what you want (minimum $5): You decide how much these fantastic books are worth. If you can only spare a little, that's fine! You'll still get access to a batch of exceptional titles.
Support authors who support DRM-free books: StoryBundle is a platform for authors to get exposure for their works, both for the titles featured in the bundle and for the rest of their catalog. Supporting authors who let you read their books on any device you want—restriction free—will show everyone there's nothing wrong with ditching DRM.
Give to worthy causes: Bundle buyers have a chance to donate a portion of their proceeds to The Video Game History Foundation!
Receive extra books: If you beat the bonus price, you'll get the bonus books!
StoryBundle was created to give a platform for independent authors to showcase their work, and a source of quality titles for thirsty readers. StoryBundle works with authors to create bundles of ebooks that can be purchased by readers at their desired price. Before starting StoryBundle, Founder Jason Chen covered technology and software as an editor for Gizmodo.com and Lifehacker.com.
For more information, visit our website at storybundle.com, tweet us at @storybundle and like us on Facebook. For press inquiries, please email press@storybundle.com.