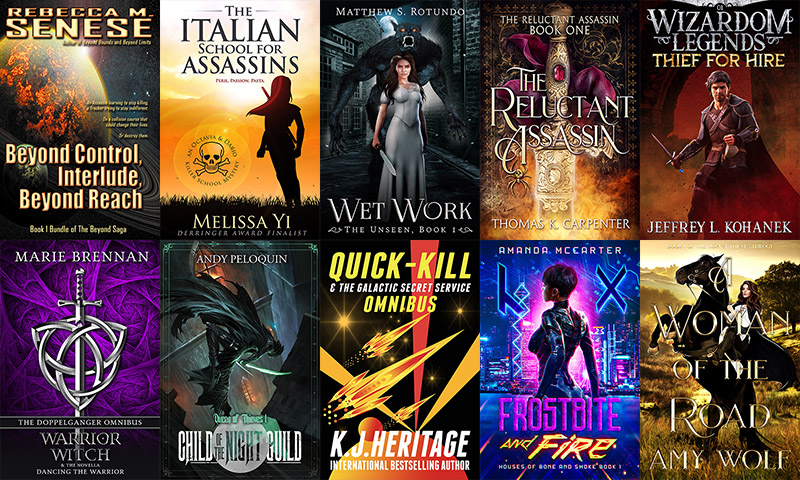 The Assassins & Rogues Bundle - Curated by Thomas K. Carpenter
Not every challenge yields to the brute force of a front-door approach. At times, the subtle art of a well-placed blade or the finesse of deftly wielded lockpicks becomes the necessity for success. In this exclusive collection of ten novels (15 counting the omnibusses!), delve into the enthralling worlds of assassins and rogues, spanning a diverse spectrum of settings and genres. These gripping tales offer a thrilling sojourn into the shadowy realms of adventure, all from the comfort and safety of your own home.
I'm curating a Rogues & Assassins bundle on storybundle.com, a terrific collection of ten novels (15 counting the omnibusses!) by bestselling authors and rising stars. As always, at StoryBundle, you name your own price—whatever you feel the books are worth, and a portion of the proceeds goes to charity.
You'll meet unforgettable characters like Zayn Carter from The Reluctant Assassin, driven by a desperate mission to save his family from an ancient evil that has enslaved their town for centuries, or Jerrell Landish, a resourceful and hilarious thief from Jeffrey Kohanek's Wizardom Legends: Thief for Hire. These books are not just about action; they are also filled with intricate, well-crafted plots like Melissa Yi's Italian School for Assassins, and morally gray protagonists like Viola in Child of the Night Guild by Andy Peloquin who must make difficult choices that test the boundaries of their own ethos.
So, if you're ready to embark on a thrilling literary journey filled with rogues who steal more than just treasure and assassins who navigate a world of shadows, then the Rogues & Assassins StoryBundle is tailor-made for you. Get ready to lose yourself in a world of danger, deception, and daring escapades.
Don't miss out on this opportunity to grab a bundle of carefully curated books that will keep you entertained for hours on end. Happy reading, and may your adventures be as exciting as those of the rogues and assassins you're about to meet! – Thomas K. Carpenter
* * *
For StoryBundle, you decide what price you want to pay. For $5 (or more, if you're feeling generous), you'll get the basic bundle of four books in .epub format—WORLDWIDE.
Beyond Control, Interlude, Beyond Reach by Rebecca M. Senese
The Italian School for Assassins by Melissa Yi
Wet Work by Matthew S. Rotundo
Thief for Hire by Jeffrey L. Kohanek
If you pay at least the bonus price of just $20, you get all four of the regular books, plus six more books for a total of 10 (or 15, counting the omnibusses)!
The Reluctant Assassin by Thomas K. Carpenter
The Doppelganger Omnibus by Marie Brennan
Quick-Kill & the Galactic Secret Service Omnibus by K.J.Heritage
Child of the Night Guild by Andy Peloquin
A Woman of the Road by Amy Wolf
Frostbite and Fire by Amanda McCarter
This bundle is available only for a limited time via http://www.storybundle.com. It allows easy reading on computers, smartphones, and tablets as well as Kindle and other ereaders via file transfer, email, and other methods. You get a DRM-free .epub for all books!
It's also super easy to give the gift of reading with StoryBundle, thanks to our gift cards – which allow you to send someone a code that they can redeem for any future StoryBundle bundle – and timed delivery, which allows you to control exactly when your recipient will get the gift of StoryBundle.
Why StoryBundle? Here are just a few benefits StoryBundle provides.
Get quality reads: We've chosen works from excellent authors to bundle together in one convenient package.
Pay what you want (minimum $5): You decide how much these fantastic books are worth. If you can only spare a little, that's fine! You'll still get access to a batch of exceptional titles.
Support authors who support DRM-free books: StoryBundle is a platform for authors to get exposure for their works, both for the titles featured in the bundle and for the rest of their catalog. Supporting authors who let you read their books on any device you want—restriction free—will show everyone there's nothing wrong with ditching DRM.
Give to worthy causes: Bundle buyers have a chance to donate a portion of their proceeds to Mighty Writers!
Receive extra books: If you beat the bonus price, you'll get the bonus books!
StoryBundle was created to give a platform for independent authors to showcase their work, and a source of quality titles for thirsty readers. StoryBundle works with authors to create bundles of ebooks that can be purchased by readers at their desired price. Before starting StoryBundle, Founder Jason Chen covered technology and software as an editor for Gizmodo.com and Lifehacker.com.
For more information, visit our website at storybundle.com, tweet us at @storybundle and like us on Facebook.